A sharing of gifts: Sangha Soirees @ WLBC
Parties are not the first thing we might think of in relation to a Buddhist Centre, but, as Vilasamani explains, there can be powerful Dharmic principles at work when communities come together to eat, laugh, play and dance.  And that's exactly what's on offer at the Sangha Soiree this Saturday (17 November 6pm), which includes an informal programme of poetry, music and performance contributions from sangha members.
Dear Sangha

We are holding another of our Sangha Soirees this Saturday (17 November 6pm), and I have been invited to say something about them for this blog. Sangha Soirees are party nights hosted by myself and Carolina Alonso, somewhere the Sangha can come together in a very informal setting and be entertained and enjoy some dancing. The evenings fall into three parts – we start with a heart based meditation at 6pm, then we have performers between 7-9pm as well as food to share and my ever experimental kombucha cocktails. Then we move into the studio for dancing to a soundtrack which leans heavily on disco, soul and funk, usually selected by yours truly but we have also had Paramananda and Aranyaka to DJ for us.

Parties are not the first thing we might think of in relation to a Buddhist Centre, which is fair enough. The Pali Canon does not record regular hoe downs at Vulture's Peak. But for me there is a powerful principle at work in these evenings, which is that communities that eat, laugh, play and dance together are the stronger for it, and that these activities build heart connection. Sangha is the mutual giving of gifts, and at the Soirees we are invited to share our gifts with each other. This can be be simply our enthusiasm for the evening, the food we bring to share, the moves we make on the dance floor, or the donation we put in the bowl. But I am especially delighted when one of us feels brave enough to share their talent with us, be it through music, movement, poetry, comedy or calligraphy (to name but some of the offerings that we have had). These are often a delight, and serve to deepen our knowledge of the person and their passion. Then the dancing. I have always loved dancing, losing myself in the rhythm and mood of the music, and always feel better for it afterwards. Motion is lotion, after all. And great to see others finding their own way with their bodies.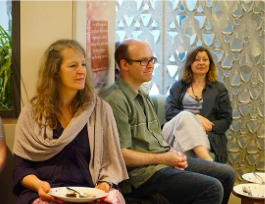 So do come and join us, and if you have not been before, find out what these evenings are about. At this Soiree, we have the following performances: Zsolt Kovacs on piano, a new contemporary dance performance from Jenny Hill and Katsura Isobe, poetry from Dharmavadana, Robin Gardner, Vishvantra and Thomas Greig, and songs from Stephen Gardner and Natalia Kieniewicz.
Do bring vegetarian food to share, and we ask for a donation of £15 for the evening to support the WLBC. You can see some photographs of previous Soirees here.
With metta
Vilasamani