Arts Event: Mortality, creativity and beauty on Saturday 11 August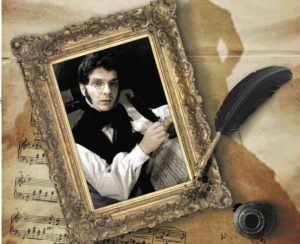 Paying attention to our inescapable mortality is part of a Buddhist approach to life.  And so, equally, is energy, creativity and the appreciation of beauty.  How might these apparently contradictory emphases be related?
Schubert – the Wanderer (Saturday 11 August 7pm), a one-man play with live music by Ratnadhya, a member of the Triratna Buddhist Order, doesn't set out to address such questions directly.  But, like any good art, it might prompt reflection as well as being an moving and enjoyable evening.
Set in Vienna in 1828, it focuses on the last months of Schubert's tragically short life. The young composer has just arrived at his brother Ferdinand's house, to rest and take the air on the advice of his doctors. Faced with his own mortality, just as his artistic vision is rising to new heights, music pours forth in a last flowering of creativity before his 'unmentionable' illness takes its toll.
Using the metaphor of the wanderer, a figure that haunted Schubert's imagination, Schubert – the Wanderer is an evocative, moving drama that sheds new light on a much-misunderstood musical genius.
 Ratnadhya's performance at WLBC last year was very popular – booking is highly recommended.