Breathe In, Breathe Out: a yoga workshop LEVEL 1
Sat Jul 1st 2017
10:00 am
1:00 pm
Booking required
£30/ £25 concs
The workshop will be based on the idea that breath and movement should synchronised in yoga as well as in life. Awareness of breath and synchronizing breath and movement distinguish yoga from other forms of physical practice. Emotional stress and random thoughts are less likely to occur when the breath is controlled. The energy, the prana, begins to flow more freely pushing through any emotional and physical blockages, thus freeing body and mind. During meditation when the breath moves, the mind moves as well. This works both ways so as the mind moves, the breath moves too.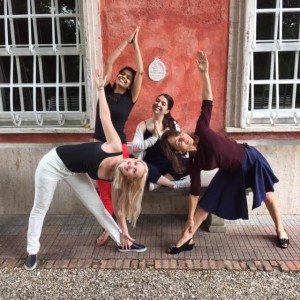 The breath gives us a tool with which we can explore the subtler structures of our mental and emotional worlds. When the breath changes, that means that something is happening in the mind. When something happens in the mind, like a disturbing thought for example, the breath reflects that back. Because breath and mind are so connected, awareness and mindfulness of breathing can lead to insights into the nature of mind that might eventually to freedom from suffering. Learning to control the breath during yoga practice is crucial for yoga and for life.
On the mat: we shall explore how alignment, breathing, and movement can be practiced with maximum awareness of the breath, how this can help generate balance in our bodies and in our minds. Poses will be held and explained in detail. Vinyasa sequences will be included to synchronize movement and breath and to transition between sustained poses.
Off the mat: some time will be spent to reflect on how yoga can help us find calm and unclutter our minds. Participants will be encouraged to ponder on what can be taken away from the mat to be incorporated in everyday life.
On the mat/off the mat: we will reflect on how yoga gives us awareness of our bodies, of pain and discomfort, but also of ways in which we can overcome pain and discomfort.
For bookings and more info email: marina@artakt.co.uk
Booking
Full payment is required to make your booking. Please make sure you have read all the details on this page, and understand any specific commitments required before booking. Payments are non transferable but can be refunded up to 5 working days before the course starts (minus £20 cancellation fee). In the event of the course being cancelled, you will receive a full refund.
Please either click on the 'Book Online' button above, or write a cheque payable to West London Buddhist Centre and send with your booking request to:
The West London Buddhist Centre,
45a Porchester Rd,
London W2 5DP
Please include your name, email and phone number with your booking.