Sangha for the benefit of all: Triratna Day on 7 April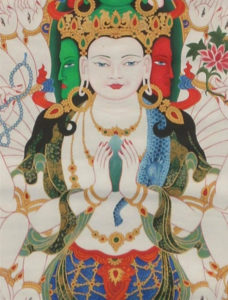 If you drop in to WLBC, the first thing you might notice is the modern, newly-built premises. You may be struck by the contemporary resonances of the programme – 'Buddhism in the City', secular mindfulness, a range of cutting edge bodywork practices like Feldenkrais and Trauma Releasing Exercises.
But if you stick around, you'll soon realise that the Centre is firmly grounded in the Buddhist tradition, going right back to the Buddha's teaching 2500 years ago. A guiding principle at the Centre is to explore and engage creatively with that tradition, finding its direct relevance to our lives here and now.
In this, WLBC is following the vision of the wider contemporary Buddhist movement of which it is part – the Triratna Buddhist Community, a network of practising Buddhists founded in the late 1960s by Sangharakshita.
If you're interested in discovering more of the wider Triratna Buddhist Community, check out Triratna Day, coming up on 7 April at the Croydon Buddhist Centre. An annual day of practice and celebration of the Triratna movement, it's a way of getting a fuller sense of how Triratna aspires to support both personal transformation, and wider social change, through the practice of Buddhism.
Everyone's welcome to join sangha from across all the Triratna Buddhist centres in the London region gathering to explore the theme 'For the benefit of all beings', with a keynote talk by senior Order member Parami – with meditation led by WLBC's very own Ratnaprabha.