Original Hatha Yoga: A 2-Day Event with Daniel Simpson
Sat Oct 22nd 2016
Oct 23rd 2016
9:30 am
5:30 pm
Booking required
One day £75/ whole weekend £125
Daniel Simpson | Philosophy
ORIGINAL HATHA YOGA:
Philo sophy & Practice
22 & 23 October 2016
Sat 9:30-17:30
Sun 9:30-17:30
Daniel Simpson explores how the practice and philosophy of yoga has evolved, from ancient history to today. Using lectures and visual media, plus extracts from texts (from Vedas and Upanishads to the Bhagavad Gita, Yoga Sutra and Hathapradipika), Daniel brings to life the roots of yoga. He explains how ascetic traditions and tantric goals became combined, and how modern practice draws on both. A former reporter, Daniel has a passion
for communicating clearly and exploring ideas in accessible ways. His presentations
include group discussions and practical exercises, drawing on his experience of teaching asana, pranayama and meditation.
Having felt transformed by devotion to yoga, he loves sharing it with others. Daniel has studied a master's degree in Traditions of Yoga and Meditation, at SOAS in London. He has also spent more than two years in India with a wide range of yogis, from traditional sadhus to BKS Iyengar and his family.
For more info: http://www.eltonyoga.com/in-depth-yoga-workshops/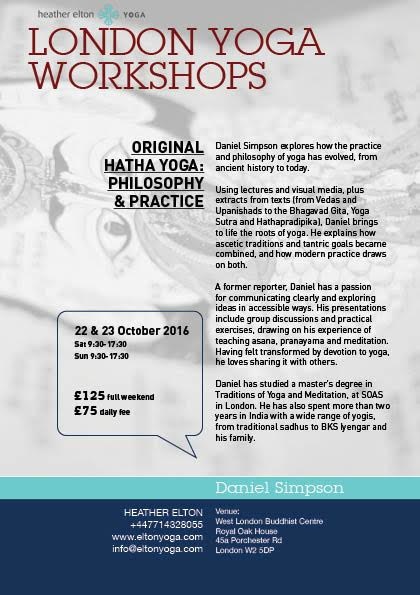 Booking
Full payment is required to make your booking. Please make sure you have read all the details on this page, and understand any specific commitments required before booking. Payments are non transferable but can be refunded up to 5 working days before the course starts (minus £20 cancellation fee). In the event of the course being cancelled, you will receive a full refund.
Please either click on the 'Book Online' button above, or write a cheque payable to West London Buddhist Centre and send with your booking request to:
The West London Buddhist Centre,
45a Porchester Rd,
London W2 5DP
Please include your name, email and phone number with your booking.