Film Club: 'Double Indemnity'
Sat May 20th 2017
6:00 pm
Booking N/A
Suggested donation £6 waged / £4 unwaged
This regular event will show a variety of films. The intention is that they will all have some aspect of Buddhism or dharma teachings in them, even if it's not immediately obvious.
Saturday 20th Mayat 6:00 pm
Double Indemnity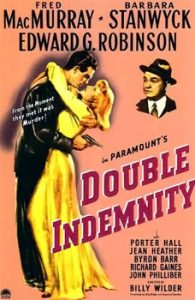 An insurance representative lets himself be talked into a murder/insurance fraud scheme that arouses an insurance investigator's suspicions.
Director: Billy Wilder
Writer: James M. Cain
The film will be presented by Bodhilila