Are Strings Attached? One-man show by Vidyadhara
Sat Nov 24th 2018
7:00 pm
8:30 pm
Booking not required
£15 Full waged / £10 Part waged / £5 Unwaged Our arts events can sell out - advance booking highly recommended. Number of £5 tickets limited.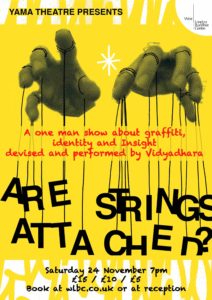 You think you know about graffiti? Tags, throw-ups, pieces? Think again. Are Strings Attached? is written from the inside, in consultation with graffiti writers, to tell the 'real story': a one man play about graffiti, tennis and Pinocchio that explores themes of fame, identity and Insight
Prepare to be delighted and confounded and to have your credulity tested to the max in this thrilling exploration of toxic aspiration, identity, and the Big Question of existence itself.
Tagged as both a 'Hidden Gem' and a 'Must See' show by FringeReview in 2018, Are Strings Attached? has also played to standing ovations at the Buddhafield Festival and beyond.
In short, it's a rollercoaster ride through subjectivity and selfhood, truth and fiction.  And – believe it or not – it's funny.  Anyone for tennis?
Show runs for 1 hour without a break
Listen here to Paul Levy talking to Simon Lovat about Are Strings Attached?
Reviews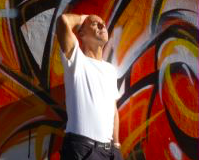 'a masterclass in character development' – FringeReview
'The acting is physical and astounding.  There's no time to blink…  It's both seriously fun and unsettling…[the room] feels empty when he leaves.'
Brighton Source
'The show is dynamic, deep … Simon Lovat is absolutely captivating, having full control over the pace, energy and mood… It really is ACE!'
Broadway Baby
'Are Strings Attached? brilliantly explores through urban subculture the existential questions of the meaning of life, success, satisfaction and the pursuit not of excellence but a desire to embrace mediocrity. A knowledge of Banksy or Bjorn Borg isn't necessary and in fact, the themes of isolation, dissatisfaction, and alienation are universal.  Take a chance on this hidden gem.  I promise you won't be disappointed.'
FringeReview
About Yama Theatre Productions and its working methods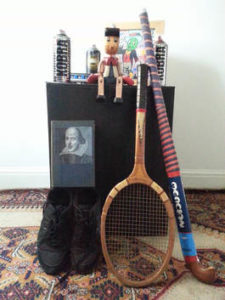 In Buddhism, Yama is the 'Lord of Death'. So the name seemed appropriate to launch a play about death (Dead Happy – performed at the West London Buddhist Centre in 2017). It is also appropriate to the 'death' of theatrical conventions, which we explore methodologically.
When we watch a play, we generally find that the actor and the character he plays purport to be identical. The signifier (the actor) and his referent (the character) seem to collapse into one another.  For three hours, Kenneth Brannagh 'is' unproblematically Henry the Fifth, for example. Surely, this is why we are able imaginatively to propose the existence of the character.  But how truthful is this?  At Yama Theatre Productions, we deliberately complicate this transaction.  What happens when the actor and his referent are shown to be non-identical, as in our latest show Are Strings Attached?, the so-called autobiography of graffiti artist DOG.
Once a layer of distancing is introduced between the actor and the character he seems to play, by way of a series of increasingly outrageous truth-claims, the limits of representation can be explored, along with the 'reliability' of the narrator. Is this more truthful? What happens when you are forced to see DOG as a construction, rather than a character?  What does that say about you?
Welcome to the unstable world of Are Strings Attached?
Booking
The easiest way to book is online - just click the button below.
Please make sure you have read all the details of the event, have made sure you are eligible to attend (eg for 'going deeper' events) and are willing to make any commitments that are required.
Bookings are fully refundable up to 7 days in advance. After that we cannot usually offer refunds.
You can also book in person at the Centre, or by sending a cheque payable to West London Buddhist Centre along with your name, email and phone number and the name and date of the event to:
The West London Buddhist Centre,
45a Porchester Rd,
London W2 5DP
Please include your name, email and phone number with your booking.