Bassoon and piano recital by Ursula Leveaux and Simon Marlow
Sat Mar 24th 2018
7:00 pm
9:00 pm
Booking not required
Suggested donation £10-£30 Numbers limited - booking highly recommended!
Ursula Leveaux is one of the leading bassoon players of our day, greatly in demand as a performer on both the baroque and modern bassoon. She is joined by pianist Simon Marlow for a recital of baroque, romantic and contemporary music, ranging from J S Bach to Schoenberg. Of particular interest are rarely performed works by Elgar, Holst, Saint-Saens and Clara Schumann.  Full programme below.
Bodhilila writes: 'Nowadays Clara Schumann is known mainly because of her tragic marriage to Robert Schumann and the key influence she had on the music and careers of composers Schumann, Brahms and Mendelssohn. Uniquely for a woman of her time, Clara Schumann was a world famous concert pianist, as much in demand as a performer as her colleague, the great virtuoso pianist and composer Liszt. She was highly respected by the leading musicians of her time, and the few compositions she left offer a tantalising glimpse of the composer she might have become.'
Programme
J S Bach, Sonata in G minor BWV 1030b
Schoenberg, Six short pieces for piano Op. 19
John Steinmetz, Etude No.5 for solo bassoon, 'Variations on the "Streets of Laredo"'
Clara Schumann, Three Romances
Interval
Elgar,  Romance Op. 62
Vaughan Williams, Six Studies in English Folk Songs
Holst, Toccata for Piano
Saint-Saens, Bassoon Sonata Op.168
Numbers limited – booking highly recommended! Our arts events are very popular and are often fully booked. If you would like to book a place, please register online well in advance. Registration secures a place which will be held until 6.40pm on the day of the event. Registration is free – donations can be at the event and are very welcome. Please do cancel your registration if you find you can't attend, so someone else can take your place.
Click here to register.
About the performers
Ursula Leveaux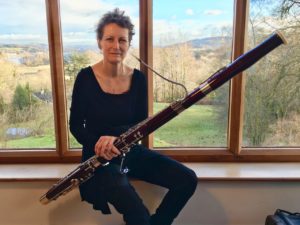 Ursula Leveaux is a sought-after chamber musician, currently the bassoonist of London's Nash Ensemble, the resident Ensemble at the Wigmore Hall. She is also the principal bassoon with City of London Sinfonia, and also at the Academy of Ancient Music, and she is particularly in demand as performer on period instruments. She is a prominent orchestral player, and was principal bassoon with the Scottish Chamber Orchestra from 1987 to 2007.
Ursula's CD recordings include the complete chamber music of Poulenc and of Saint-Saens, Beethoven's Septet and Schubert's Octet, all with the Nash Ensemble.  As well as a huge range of orchestral and opera repertoire with the Scottish Chamber Orchestra, Ursula has also recorded the Vivaldi Bassoon Concerto in D minor, Sir Peter Maxwell Davies' Bassoon Concerto, Strathclyde Concerto No 8, which was written especially for her, and the Mozart Bassoon Concerto.
A former pupil at Chetham's School of Music, she furthered her studies with Martin Gatt in London, Brian Pollard in Amsterdam and also studied Baroque bassoon with Danny Bond in The Hague. While still a student in London she was the winner of the Shell-London Symphony Orchestra Scholarship and also became a member of the European Union Youth Orchestra working with conductors such as Claudio Abbado, Herbert von Karajan, Leonard Bernstein and Georg Solti.
When not travelling and performing Ursula lives in the Lake District with her husband and 11 year old daughter.
Simon Marlow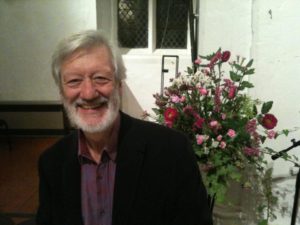 After reading music at Cambridge University, Simon established a successful career as chamber musician and soloist. Over the years he has worked with many leading musicians, and has built an outstanding partnership with Medici Quartet violist Ivo-Jan van der Werff. He is consequently frequently on the concert platform in Britain and Europe and has also given recitals in America, Iceland, New Zealand, Sri Lanka and Hong Kong. He has given master classes in Iceland and at the Hong Kong Academy for Performing Arts, has broadcast, and made many recordings. Recently Simon took part in a Dutch project to perform and record music composed by Nietzsche which also included works by other composers who were inspired by his philosophy. In addition to his musical interests, Simon has worked for ten years with the Lucis Trust, an educational charity.