Feldenkrais Method: Relieving Repetitive Strain – Free your Hands, arms & neck
Sat Jul 28th 2018
10:30 am
4:30 pm
Booking required
£80/£70 concessions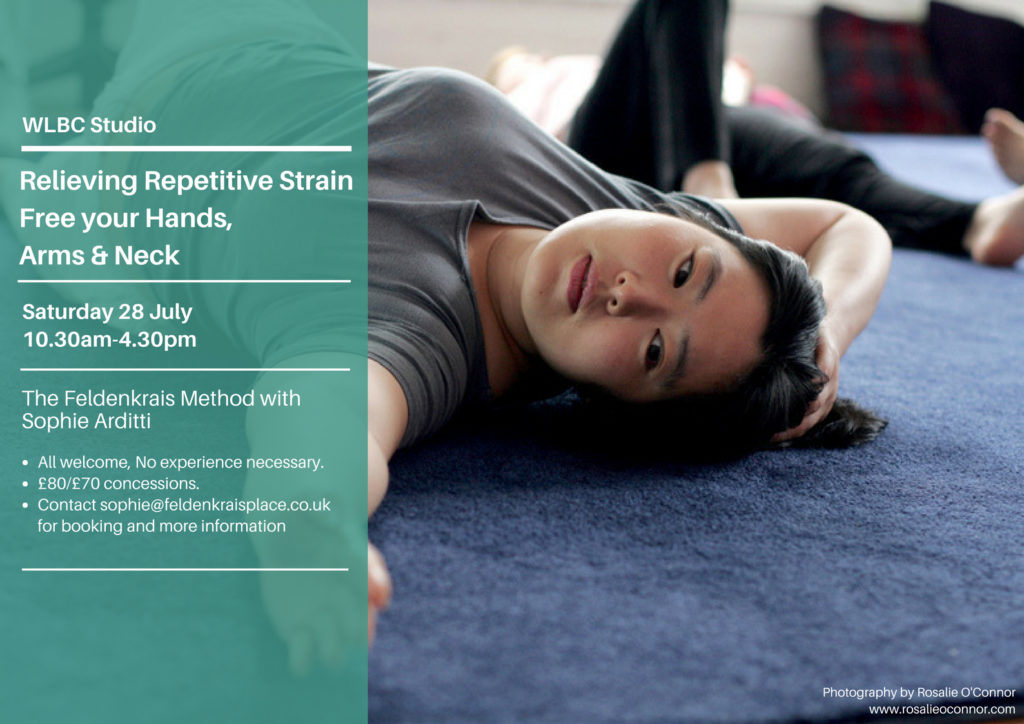 In this one day workshop in Feldenkrais Method (TM), we'll use enjoyably easy movements to undo the ravages of laptop and phone and all the other demands put on these hardworking parts of ourselves.
Imagine how you would move and use your hands and arms if you sensed them originating not from your shoulder joints but from your middle – your chest or even from your pelvis, your body's power centre.  Your hands will feel nimble, large and soft, with a sense of ease and length throughout your whole self, particularly your neck and chest.
I've had more movement in my neck after four lessons of Feldenkrais than I've had for twenty years.
— Janice
All welcome, no Feldenkrais experience necessary.
Booking:  Please contact Sophie to book on 07951 905902 or sophie [at] feldenkraisplace[dot]co[dot]uk, then send a deposit of £30; the remainder is payable on the day. Online banking details available on request. Cheques should be made out to Sophie Arditti and sent to:
68d St Marks Rd
London W10 6NN
More information: www.feldenkraisplace.co.uk