Monthly Yin Yoga workshop with Norman Blair
Sat Oct 27th 2018
2:30 pm
5:30 pm
Booking required
Full price £30, concessionary price £20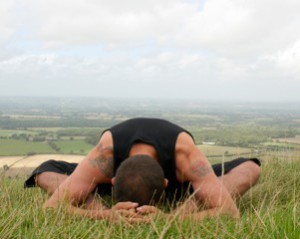 Yin yoga can give us the space to slow down and stay with our experiences rather than always rushing and striving to achieve. Yin yoga is a practice in which seated postures are held for several minutes. Within these long holds there is an encouragement of softness and an emphasis on relaxing muscular tissue. Through this stillness, we can become aware of the various sensations within the body and the fluctuations of mind, emotions and breath. This brings a sense of harmony and peace; so there is a greater ease, a deeper sense of balance, feelings of calmness and acceptance.
The Yin practice invites us to explore inner landscapes with qualities of self-reflection and accepting – with equanimity. We learn to pay attention to what is, as it is with an attitude of kindness.  Life is precious and a practice such as this can give us space for appreciating the great privilege of being this body. Yin Yoga is beneficial and suitable for all levels of practitioner.
Norman Blair is one of the most experienced yin yoga teachers in the country. He has been teaching these monthly workshops since 2003. For more details go to www.yogawithnorman.co.uk. This event is one of his roughly monthly yin yoga workshops at WLBC, held on the last Saturday of most months 2.30-5.30pm.  The dates for these in 2017-18 are as follows:
2017:  25 November
2018:  27 January, 24 March, 28 April, 26 May, 30 June (CANCELLED), 25 August, 27 October
Booking is essential for these workshops, and is via Norman's website.