Schubert – the Wanderer
Sat Aug 11th 2018
7:00 pm
9:00 pm
Booking required
£15 Full waged / £10 Part waged / £5 Unwaged Our arts events can sell out - advance booking highly recommended. Number of £5 tickets limited.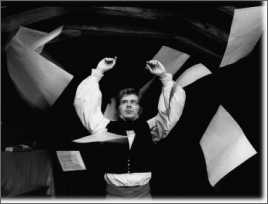 This one-man play with live music offers audiences a unique opportunity to hear and see Schubert, man and musician, in a dramatic context. Performed by Triratna Buddhist Order member Ratnadhya (Michael Lunts), 'a rare combination of accomplished writer, fine actor and talented pianist.'
Our arts events can sell out – advance booking highly recommended. Number of £5 tickets limited. Click here to book tickets.
About the show
Set in Vienna in 1828, Schubert – the Wandererfocuses on the last months of Schubert's tragically short life. The young composer has just arrived at his brother Ferdinand's house, to rest and take the air on the advice of his doctors.
Faced with his own mortality, just as his artistic vision is rising to new heights, music pours forth in a last flowering of creativity before his 'unmentionable' illness takes its toll.
Using the metaphor of the wanderer, a figure that haunted Schubert's imagination, Schubert – the Wanderer is an evocative, moving drama that sheds new light on a much-misunderstood musical genius.
'Michael Lunts's performance is a tour-de-force: drama, songs, piano music … this is thought-provoking and evocative drama, prompted by Schubert's sublime music, by a master actor and writer who even manages to shave on stage with a sharp, cut-throat razor. Beat that!'
Salisbury Journal
'Michael Lunts's facility at the piano makes this portrait of Schubert pleasingly credible … a most attractive evening's theatre.'
The Stage
Michael Lunts has been combining music, both popular and classical, with his passion for drama for just about as long as he can remember, working in regional and West End theatre as both actor and Musical Director. He has created a series of one-man classical shows, performed all over the world, on the lives of composers such as Chopin, Rachmaninov and Schubert.  More about Michael.
'Michael Lunts is a rare combination of accomplished writer, fine actor and talented pianist and, on stage, he both acts and performs the music.'
John Waddington, Medieval Hall, Salisbury