Viola and piano recital by Paul Silverthorne and David Owen Norris
Sat Dec 8th 2018
7:00 pm
9:30 pm
Booking not required
£15 Full waged / £10 Part waged / £5 Unwaged Our arts events can sell out - advance booking highly recommended. Number of £5 tickets limited.
A programme of Beethoven, Britten and Brahms performed by one of the country's leading viola players Paul Silverthorne ("a virtuoso in sensitivity and technique" – The Times), and well-known pianist, composer & broadcaster David Owen Norris. Part of WLBC's music and performance programme, featuring leading professional performers sharing work they love in the friendly and intimate setting of the Buddhist Centre.
Programme
Ludwig van Beethoven – Grand Duo (arrangement by Friedrich Hermann of the Septet Op 20, edited and revised by Paul Silverthorne)
Benjamin Britten – Lachrymae: Reflections on a song of Dowland
Johannes Brahms – Sonata in E flat Op 120 Nº2
Paul Silverthorne
"a virtuoso in sensitivity and technique" – The Times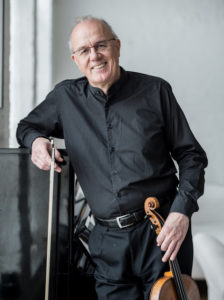 Paul Silverthorne has combined a prolific solo career with principal positions in two of the most prestigious ensembles in London; the London Symphony Orchestra (from 1990 to 2015) and the London Sinfonietta since 1988.
His solo performances regularly take him to the USA, the Far East, Australia and Russia as well as closer to home in the UK and Europe. He has performed as a soloist with such conductors as Sir Colin Davis, André Previn, Sir Simon Rattle, Sir John Eliot Gardiner, Christopher Hogwood, Oliver Knussen, John Adams and Kent Nagano, and with the LSO and other major orchestras in the UK, USA and Europe. After a performance at the Proms, The Times (London) described him as "a virtuoso in sensitivity and technique".
He is particularly renowned for his interpretation of new music, and his commitment to this field has led to close relationships with leading composers of our time, many of whom have been inspired to write for him. He has worked closely with Pierre Boulez, Luciano Berio, Hans Werner Henze, Elliot Carter, Steve Reich, John Adams, Oliver Knussen, George Benjamin and Helmut Lachenmann among many others, and is closely involved with several schemes to encourage young composers in the UK. His CD 'Invocations' on the Black Box label comprises 14 compositions inspired by his playing.
His recordings cover a wide range of repertoire and appear on EMI, Naxos, Chandos, Koch International Classics, ASV, Meridian, Albany and other labels to widespread acclaim. His recent CD, Beethoven by Arrangement, with pianist David Owen Norris, a collection of works arranged for viola and piano, was issued on the Toccata Classics label and has been widely praised: "with a performance of the quality here, we can experience the dedicated and delightful musicianship that these players bring to this wonderful music." [International Record Review]
His most recent recording is of the viola concerto (Divinum Mysterium) by the American composer Kenneth Fuchs with the LSO and Joanne Falletta on Naxos American Classics.
After leaving the LSO in October 2015 he spent three years as Professor of Viola at the School of Music at Soochow University in Suzhou, China before returning to London to resume his teaching at the Royal Academy of Music and his position in the London Sinfonietta.
David Owen Norris
David Owen Norris is a pianist, composer & broadcaster.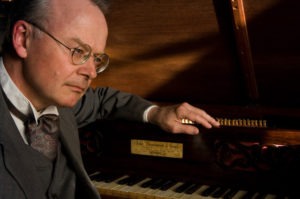 He has performed all over the world since his appointment as the first Gilmore Artist in 1991. His compositions include a symphony, a piano concerto, the oratorios Prayerbook and Turning Points, and the multi-media tribute to the passing seasons, HengeMusic. His Chord of the Week programmes on BBC2 television, now in their sixth season, are a popular feature of the Proms. His many radio presentations have included the Playlist series on Radio 4, and In Tune and The Works on Radio 3, where this autumn sees his 26th appearance on Building a Library. He has just recorded Mozart concertos on fortepiano for Hyperion, and will shortly record a third disc of Sullivan songs for Chandos.
Booking
The easiest way to book is online - just click the button below.
Please make sure you have read all the details of the event, have made sure you are eligible to attend (eg for 'going deeper' events) and are willing to make any commitments that are required.
Bookings are fully refundable up to 7 days in advance. After that we cannot usually offer refunds.
You can also book in person at the Centre, or by sending a cheque payable to West London Buddhist Centre along with your name, email and phone number and the name and date of the event to:
The West London Buddhist Centre,
45a Porchester Rd,
London W2 5DP
Please include your name, email and phone number with your booking.