WLBC midweek 'Going Deeper' retreat at Vajrasana, Suffolk – 'Touching the Earth'
Mon Jun 25th 2018
Fri Jun 29th 2018
7:00 pm
11:00 am
Booking required
£240 Full waged / £200 Part waged / £180 Unwaged. There is a small and strictly limited number of low-cost bursary places available for those who cannot afford the retreat fee. Please contact the Centre office if you wish to apply.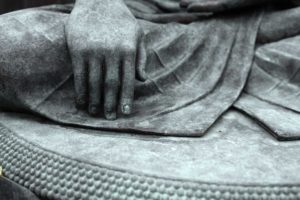 Our midweek retreat will be held at the astonishingly beautiful retreat centre Vajrasana, situated in a spacious summer landscape of fields and open skies, and with a garden abundant with flowers, grass and trees. It's a perfect context for exploring our theme of 'Touching the Earth', and an ideal time of the year to be on retreat.
'Touching the Earth' is the mudra (hand gesture) of Buddha Akshobya, who is playing a special role at our Centre this year. You'll encounter him at Vajrasana, a serene figure seated on his lotus in a small pond near the entrance of the shrine room. The symbolic hand touching the earth refers to the historical Buddha calling the earth to witness his Enlightenment.
It is a deeply meaningful gesture. You could say that touching the earth is about being deeply aware of the earth through the body, through being grounded in awareness of the body. So during this retreat we'll be spending a good deal of time listening to the body, and allowing the body to witness our efforts. We'll be doing walking meditation to ground ourselves more and more, and will keep bringing our attention to the earth touching us and to the touch of the breath. Through noticing the sensations in the body, the mind can rest, calm down and eventually expand into much more positive states.
Please do join us, if you can, for this period of intensive practice, and be the witness of your own unfolding.
Open to anyone who has a basic understanding of Buddhism (eg from an Introduction to Buddhism course), and has learnt to meditate. Please contact the Centre if you're unsure whether this retreat is suitable for you.
Booking
The easiest way to book is online - just click the button below.
Please make sure you have read all the details of the event, have made sure you are eligible to attend (eg for 'going deeper' events) and are willing to make any commitments that are required.
Bookings are fully refundable up to 7 days in advance. After that we cannot usually offer refunds.
You can also book in person at the Centre, or by sending a cheque payable to West London Buddhist Centre along with your name, email and phone number and the name and date of the event to:
The West London Buddhist Centre,
45a Porchester Rd,
London W2 5DP
Please include your name, email and phone number with your booking.