Piano Recital: Alberto Portugheis
Saturday 13 May 7pm
Please find the programme for this concert below:
W A Mozart Fantasy in D minor, K.397
J Haydn Sonata in E flat, Hob. XVI:52
Allegro moderato
Adagio
Finale, Presto
Ludwig van Beethoven Andante Favori WoO57
Interval
Modest Mussorgsky
Pictures at an Exhibition
Promenade
Gnomes
Promenade The Old Castle
The Tuileries
Bydlo (Oxen)
Promenade Ballet of the Little Chicks in their Shells
Samuel Goldenberg & Schmuyle
Promenade
The Market in Limoges
Catacombs
Con mortuis in lingua morta
The Hut of Baba-Yaga
The Great Gate of Kiev
Alberto Portugheis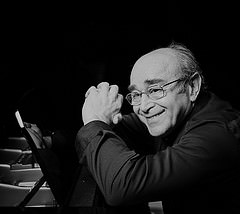 The distinguished pianist and pedagogue Alberto Portugheis was born in La Plata, Argentina, to parents of Russian and Rumanian descent. After winning first prize at the Geneva Concours de Virtuosité , Portugheis embarked upon an international career, visiting almost 50 countries.
He performs in recitals, chamber-music concerts and as soloist with many major orchestras, including: Royal Philharmonic, London Symphony Orchestra, London Mozart Players, Philharmonia, English Chamber Orchestra, Lausanne Chamber Orchestra, Paris and Israel Sinfoniettas, Orchestre de la Suisse Romande, Sinfonica Nacional of Argentina, Filarmonica of Buenos Aires. He frequently broadcasts on radio and television and gives regular Masterclasses.
Alberto Portugheis has a particularly wide repertoire, with music ranging from baroque – including his own transcriptions – to contemporary. Many works have been specially written for him. His acclaimed recordings include: 4 Chopin Ballades, Alfred Nieman's Second Sonata, Ginastera's complete piano music and chamber music with piano, Khachaturian's Piano Concerto with the London Symphony Orchestra, Khachaturian's solo works for piano, Rachmaninov's and Shostakovich's cello and piano sonatas (with the cellist Gwyneth George) and a CD entirely dedicated to the piano music of Rossini.
Alberto Portugheis is founder member and Vice-chairman of the Beethoven Piano Society of Europe, Vice-chairman of the International Society for the Study of Tension in Performance, Vice-president of the European Piano Teachers' Association and founder of the Asociacion Latino-Americana de Pianistas Pedagogos.
Like his colleague and compatriot Daniel Barenboim, Alberto Portugheis is a dedicated Peace and Human Rights campaigner, nominated for the Nobel Peace Prize in 2008. In 2009 he published the very successful book 'Dear Ahed, The Game of War and a Path to Peace'.
– See more at: http://www.opusmusica.org/about.html#sthash.LD5eMg8T.dpuf