Rainy Season Retreat starts this Sunday with a day retreat….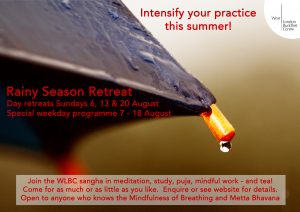 Over the next two weeks, the Centre team is engaging in a special intensive weekday programme of daily meditation, devotional practice and mindful work to maintain the centre, framed by meditation day retreats on Sunday 6, Sunday 13 and Sunday 20 August.
Anyone who knows the Mindfulness of Breathing and Metta Bhavana practices is very welcome to join us – come for as much or as little as you wish.  Full programme details here.