Rainy Season Retreat
Sun Aug 6th 2017
Aug 20th 2017
10:30 am
5:00 pm
Booking not required
No charge, donations welcome.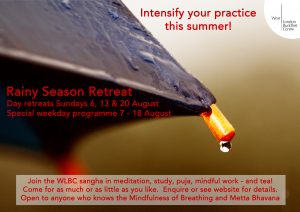 A new twist to the Buddhist tradition of setting aside a season of the year for collective practice, and a "first" for WLBC. For two weeks this summer, the centre team is engaging in a special intensive weekday programme of daily meditation, devotional practice and mindful work to maintain the centre, framed by meditation day retreats on Sunday 6, Sunday 13 and Sunday 20 August.
Anyone who knows the Mindfulness of Breathing and Metta Bhavana practices is very welcome to join us.  The programme is flexible, so you can participate in as much as you wish, both in periods of formal practice and by contributing to keeping our centre in good shape during the morning "work circle". For the team, it's a time to consolidate the last two years of hard work getting the new centre up and running. For the sangha as a whole, it's an chance to come together to share practice and in a spirit of generosity, making the most of the quieter August period.
Retreat programme for weekdays
(Monday 7 – Friday 11 August and Monday 14 – Friday 18 August)
11.30am-12.30 pm  Work circle
1-2pm    Meditation (as part of usual lunchtime drop-in class)
2-3pm     Walking meditation followed by Mindfulness of breathing
3-4pm      Tea break
4-5.30pm Short ritual, study on the Heart Sutra, followed by a short meditation
5.30-7pm      Dinner break
7pm-9pm      Evening programme
Retreat programme for Sunday meditation days
(Sundays 6, 13 and 20 August)
10.30-1pm Meditation
1-2pm        Lunch break
2-5pm        Meditation
On Saturdays 12 and 19 August we are running our usual programme: Saturday drop-in meditation drop-in 10-12noon and Buddhism in the City 10.30-1pm.
For newcomers, as usual, we are offering drop-in meditation 1-2 pm on weekday lunchtimes, Thursday 6.30-7.30pm and Saturday 10-12noon.