Sangha Newsletter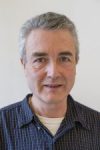 Dear Sangha
I'm thinking of the lucky sangha members on retreat in Suffolk at the moment, including Bodhilila and Yashobodhi. But here at the Centre, classes continue right through the summer.  On Tuesday evening Sangha Nights we are well into our theme of looking at the blue Buddha of the East, Akshobhya. This Tuesday, 3 July at 7pm, Akashadevi will explain the mystery of the frightening mythical figures associated with Akshobhya, 'The Wrathful Ones'.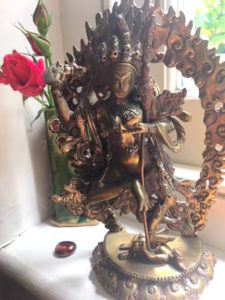 She writes: "As well as being the leader of the Vajra Family and the embodiment of imperturbability and mirror-like wisdom, Akshobya is the head of the wrathful figures, fierce guardians of the Dharma. I will explore the meaning and significance of these often quite terrifying-looking, powerful beings, and their paradoxical place in the mandala of the usually peaceful teachings of Buddhism. Please feel free to bring any images or statues of wrathful figures you may have, to put on the shrine. The evening will as usual include meditation, a talk, and time for reflection and discussion of the question of how we can learn to integrate and direct all of our energy towards wisdom and compassion."
Sadly, that may well be Akashadevi's last Tuesday night talk, as very soon she's moving down to Cornwall. So the following Tuesday, 10 July, we'll have a farewell to her, as well as a special puja (devotional ritual involving chanting) directed to the Buddha Akshobhya. Her previous talk, on the meaning of the Buddhist gesture of touching the earth, can be found here, and my talk this week on the symbol of the diamond thunderbolt, Akshobhya's emblem, is here.
Best wishes
Ratnaprabha