What is the Sangha Newsletter?
Alex, who works on publicity for the Centre, explains some changes underway to our e-newsletters and the Centre's blog – and invites your ideas and involvement.
Dear friends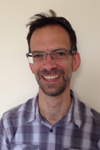 How odd to be putting together a Sangha Newsletter without one of those cheery, warm, witty messages from Ratnaprabha! As he transitions towards taking over as chair of the North London Centre, we're all adjusting – and, as you may already have noticed, these biweekly e-newsletters are one of the things that are changing.
Making a virtue out of necessity, we're experimenting with a new approach. The idea is to 'host' more extended material for the newsletters on this blog on the Centre's website, and link to the blog from the bi-weekly e-newsletters.  That way we can use the blog as a way of communicating more fully something of the richness and variety of what's going on at the Centre, and also as a means of building sangha. The blog provides a space for sangha members to share what interests or inspires them at the Centre, and to reflect on their life and practice. Contributors can in principle include not only Order Members leading activities, but any of us. So we're hoping that, over time, the blog will open up a new way for us all to get to know each other and our community. It should be useful: there's enough happening at the Centre that it's quite possible even for committed regulars not to bump into each other from month to month! If you're interested in contributing at some point, or have ideas or comments (about the blog and newsletters, or indeed any aspect of Centre publicity), I'd be glad to hear from you – do drop me an email or catch me at the Centre.
You'll hear more on Ratnaprabha's departure process in coming weeks.  But for now, he's still with us: here is his talk at Sangha Night this week. It's delightful, as his talks always are, in nature; but also, in this case, in name: 'The Buddha Land of Sheer Delight' on Abhirati, Akshobhya's realm.
You might think there's not so much going on at the Centre in these hot summer holiday weeks. It's true that the Buddhism for Young People class is taking a break until September. But alongside the Sangha Night Akshobhya series, Yashobodhi's sessions at Buddhism in the City on the seven point mind training are still going strong, and it's not too late to get a taste of the positive and pragmatic perspective on the Dharma that they offer. And in August we have two arts events which both, in rather different ways, explore creativity: a Wolf at the Door writing workshop, co-led by Dharmavadana, and Ratnadhya's one man show on Schubert.
In any event, it's easy, as one slows down in the heat, to forget that all things change – it's August next week, and the next thing you know it will be September, and our early autumn courses will be underway. There's only one 'going deeper' course in September – Beyond Loving Kindness, on the Brahma Viharas – so it's worth signing up early if you're keen to do it.
Best wishes
Alex
Alex has been involved in the WLBC sangha for about 18 months, and previously in the LBC and South London group. He's part of the Centre team, working mainly on publicity.