Kristyan Robinson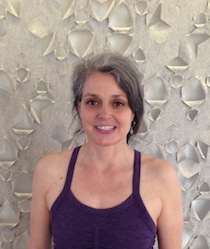 'The practice of yoga is to remove the weeds from the body so the garden can grow.'  BKS Iyengar
Kristyan has been practising yoga for over 30 years, since the age of 19.  Diagnosed with asthma and other respiratory illness at the age of 8, as a teenager she pursued more holistic ways of managing her symptoms.  She found a book in the university library in her hometown in Ontario.  The book taught yogic breathing which Kristyan has been practising ever since.
She began practising Iyengar yoga in London in 1989 with Shiv Sharma who studied extensively with BKS Iyengar for many years.  Since 2000 Kristyan has been a student at  the Iyengar Institute in Maida Vale where she learns from many experienced teachers, and especially her mentor Marco Cannavo (Maitreyavira).
In 2012 she committed to becoming an Iyengar teacher and undertook the rigorous  teacher training with Sallie Sullivan and Stephen Richardson.  Kristyan passed her Introductory Level 1 certificate in 2013.  She postponed her Level 2 in 2014 to attend to her father who was dying in Canada. Nursing him before his death was an opportunity to practise yoga of compassion. She completed her Level 2 Introductory assessment in October 2015 and is very pleased to be teaching at the West London Buddhist Centre.
Kristyan is also a writer and artist.  She maintains a regular meditation practice.