Think local – practice global!
Triratna International Practice Week, 22-29 September
What one image would you choose as the basic symbol of Buddhism? Probably the iconic image of the Buddha, sitting alone, meditating. And rightly so – yet at the same time, Buddhism is all about community. A particular kind of community, 'sangha', is one of the three 'jewels' at the heart of Buddhism, along with the Buddha's Awakening and the teaching that leads towards it.
Creating that kind of community is one of the main things we're about at WLBC. And, perhaps unfashionably, it's not just an online network or a virtual community, but has a real geographic hub, the Centre itself, where people can actually meet, practise, study and enjoy each other's company and the range of activities on offer. It's true that some people travel quite some distance to come here; but it's still, in a way, a local community, and people often say they appreciate that 'feel'.
But – perhaps surprising to hear – WLBC also has an international aspect. Though it's an independent local Centre, it's part of a much larger, worldwide network of Centres and Buddhist practitioners, the Triratna Buddhist Community, whose founder, Sangharakshita, developed a particular contemporary interpretation of the Buddhist tradition.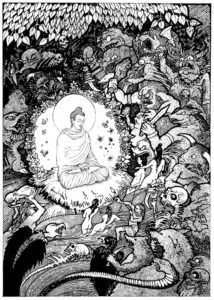 Every year, the whole Triratna community joins together for a week of concerted practice on a common theme. This year, the International Practice Week runs Saturday 22 – Sunday 29 September on the theme of 'Turning Arrows into Flowers', an image drawn from an incident in the mythical life story of the Buddha.
To find out more, come and join us – at WLBC, we'll join fellow sangha members around the world in exploring this theme. We'll start with a special Practice Day on Sunday 23 September (10.30am-4pm), and then on weekdays 2-3.30pm during the following week there'll be a daily session of the compassion meditation 'tonglen', followed by sharing of experience and conversation. Everyone's welcome.