Tibetan yoga: Secrets from the source
Sat Nov 12th 2016
11:00 am
4:00 pm
Booking required
£50
This Workshop comes under the umbrella of Heather Elton's Yoga Training Course and is not affiliated with West London Buddhist Centre activities.  We are very happy to offer ticketing for this event, but have no involvement in its content.  Tickets are available to anyone who is interested – please book by clicking the button below
This half-day workshop by Ian Baker offers an overview of yogic traditions within Tantric Buddhism, as revealed within a set of mural paintings created in Lhasa, Tibet at the end of the 17th century that reference mind-body practices dating to Vedic-era India and deriving, in part, from tantric Kaula traditions of Kashmiri Saivism.
Based on the mural paintings that were created as a visual guide to enlightenment for Tibet's Sixth Dalai Lama, the workshop will provide an overview of non-monastic tantric Buddhist practice in India and Tibet, with special reference to the so-called 'Six Yogas' whereby enlightenment can be discovered within the flow of ordinary experience and awareness. The Six Yogas are based on the awakening of Tummo, or 'fierce heat' within the physical body, leading to illuminated states of awareness within intimate relationships, sleep, dream, and near-death experiences. This experiential workshop will explore the underlying principles of the Six Yogas, their culmination in the non-dual existential yoga of 'Great Perfection' (Dzogchen), and their relevance and applicability in the contemporary world.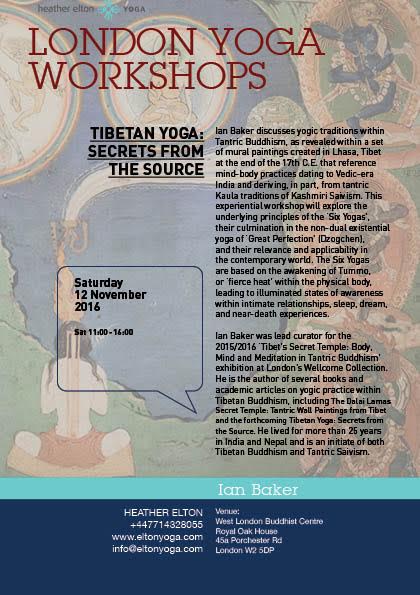 Ian Baker was lead curator for the 2015-2016 'Tibet's Secret Temple: Body, Mind and Meditation in Tantric Buddhism' exhibition at London's Wellcome Collection. He is the author of several books and academic articles on yogic practice within Tibetan Buddhism, including The Dalai Lamas Secret Temple: Tantric Wall Paintings from Tibet and the forthcoming Tibetan Yoga: Secrets from the Source. He lived for more than twenty-five years in India and Nepal and is an initiate of both Tibetan Buddhism and Tantric Saivism.
Booking
Full payment is required to make your booking. Please make sure you have read all the details on this page, and understand any specific commitments required before booking. Payments are non transferable but can be refunded up to 5 working days before the course starts (minus £20 cancellation fee). In the event of the course being cancelled, you will receive a full refund.
Please either click on the 'Book Online' button above, or write a cheque payable to West London Buddhist Centre and send with your booking request to:
The West London Buddhist Centre,
45a Porchester Rd,
London W2 5DP
Please include your name, email and phone number with your booking.