Wild Awake! Special guest at Sangha Night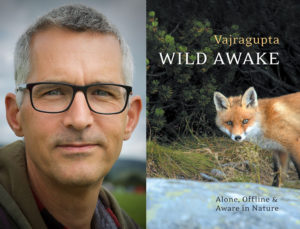 You might think Sangha Night is about community, and perhaps about calm.  And it is – among other things.  But this week (Tuesday 13 March 7pm), it's about getting wild and going it alone.  Vajragupta is coming as a guest speaker to talk about his latest book, Wild Awake: Alone, Offline and Aware in Nature, based on his experiences of going into the wild, and doing solitary retreats.  He's known as a fun and engaging speaker, and this is a rare opportunity to hear him and meet him at WLBC.
In Wild Awake, Vajragupta draws on twenty-five years of experience going into nature alone. He recounts how these 'solitary retreats' have changed him, how he fell in love with the places he stayed in and the creatures there. It includes a helpful A-Z guide on how to go about your own solitary retreat.
"This is a seriously beautiful book (beautiful places and beautiful writing) – and I believe a wise one too. It is grounded in authentic knowledge and experience. Get out there – but take Wild Awake with you." – Sara Maitland, author of Gossip from the Forest