Yin yoga with Norman Blair at WLBC
The human body, at peace with itself, is more precious than the rarest gem.  So says Tsongkhapa, the great 14th century Tibetan master teacher, in one of the best known quotes in Buddhism.  Yoga and movement can be a very effective way to find this sense of peace through a kindly exploration of the experience of embodiment – which is why WLBC offers its programme of yoga studio activities alongside classes in sitting meditation and Buddhism.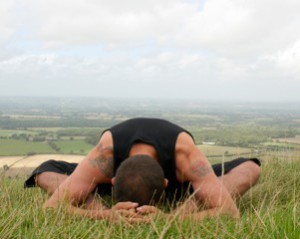 Yin yoga is a prime example – it's a slow, gentle approach to yoga in which seated postures are held for several minutes, encouraging softness, relaxation and awareness.  We're happy to announce that Norman Blair, one of the most experienced yin yoga teachers in the country, will be running a roughly monthly yin yoga workshop at WLBC over the next year, held on the last Saturday of most months 2.30-5.30pm.  For details, including on booking, click here.