Monthly Yin yoga workshop with Patricia
Sat Apr 8th 2017
4:30 pm
6:30 pm
Booking required
£20 (£15 concessions)

MONTHLY WORKSHOP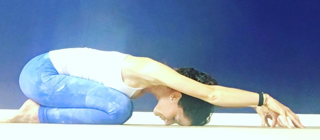 Yin Yoga is about relaxing, letting go and has a very meditative quality to it. Today we mostly know of Vinyasa Yoga and Ashtanga Yoga with a more dynamic and fast flow, working on the muscular system, a so called Yang practice. Yin Yoga is calmer and more peaceful, working on the connective tissues which consist of ligaments, tendons, cartilage, joints, capsules and our deep fascial network. Yin Yoga helps to strengthen your body to become healthier, more flexible and mentally more peaceful. In order to reach the connective tissue which by nature is less elastic than our muscles, we have to hold the postures for longer periods of time – between 3 and 7 minutes.
Suitable all levels, no yoga experience needed. Wear loose flowing clothes for comfort and movement and bring a warm jumper and socks along.
Booking
Full payment is required to make your booking. Please make sure you have read all the details on this page, and understand any specific commitments required before booking. Payments are non transferable but can be refunded up to 5 working days before the course starts (minus £20 cancellation fee). In the event of the course being cancelled, you will receive a full refund.
Please either click on the 'Book Online' button above, or write a cheque payable to West London Buddhist Centre and send with your booking request to:
The West London Buddhist Centre,
45a Porchester Rd,
London W2 5DP
Please include your name, email and phone number with your booking.