The Studio at West London Buddhist Centre, 45a Porchester Rd, London, W2 5EB
Please see our timetable below
Introductory Offer for new clients
5 classes for £25! Valid for 2 weeks.
During a Studio class at the West London Buddhist Centre, you will synchronise your breath with movements that will stretch your muscles, stabilise your joints and generally make you feel more comfortable in your own body. Classes are open to all.
**Low cost community class £7
Use agenda view for a list of classes on each day. If using weekly or monthly view scroll down to see the evening classes.
Class prices and loyalty discount passes
Click for more information and buying passes
Community drop-in class £7

Lunchtime drop-in class £10 (£8 concessions)

All other drop-in classes 

£14 (£10 concessions)
5 class pack £50/ 10 class pack £90
Lunchtime Class Pack £50 for 6 classes
Loyalty passes

(excluding Mysore classes)

 
Passes are valid for 3 months from date of purchase.  Use buttons below for purchasing online, or pay at the Buddhist Centre.
For 1 hour lunchtime classes
Lunchtime pass £50 for 6 classes (buy five get one free)
For all 1.25hr &1.5hr drop-in classes
5 class pass £50 (£10 per class)
10 class pass £90 (£9 per class)
Mysore Classes (5 days a week 7-9am)
Drop-in class £14 (£70 for 5 days/£56 for 4 days/£42 for 3 days)
1 week Mysore pass £40 (£8 per class 5 days/£10 per class 4 days / £13.30 per class 3 days)
Monthly Mysore pass rates (payable monthly in  advance)
5 days per week – £120 ( = £30 per week = £6 per class)
4 days per week – £112

( = £28 per week = £7 per class)
3 days per week – £90

( = £22.50 per week = £7.50 per class)
Please pay the teacher directly for all Mysore drop-in classes in cash.
Mysore weekly/ monthly passes can be booked online above or pay the teacher cash on the day.
Gentle Yoga 
Tuesday and Thursday mornings at 9.15am*, Wednesday 5pm and Friday mornings at 11.00am*
Wednesday Drop-in class, £14 per session; £10 concessions
* Low-cost Community Class £7 per session
Click for more information
Rose's approach is holistic. She embraces different types of yoga and includes some aspects of Pilates. Her class consists of a variety of movements to strengthen and release muscles in all parts of the body. Her philosophy is to use the breath to heal and massage different organs and joints. Detoxifying 'twists' help release toxins and tension. She individually adjusts and uses visualisation to guide students, creating a caring and reassuring environment. Her classes tend to attract beginners, the mature person and students returning to the practice.  For more information please ring Rose on 07956 297941 or 0207 3139828.
Vinyasa Flow 
Wednesday lunchtimes 1-2 pm  
Lunch Drop-in class, £10 per session; £8 concessions 
Click for more information
Vinyasa Flow is a dynamic practice, derived from Ashtanga Vinyasa, linking the movement with the breath. It explores a range of yoga postures within the context of mindfulness and poses run together like a dance. This fluidity between sequences helps cultivate a balance of strength and flexibility throughout the entire body.
Beginners Yoga
Monday 5-6.15pm 
Drop-in class, £14 per session; £10 concessions
Click for more information
Yoga is the stilling of the fluctuations of the mind' (Patanjali Yoga Sutras I.2.). Following this definition of yoga, this class uses movement (asana) and breath (pranayama) to invigorate and strengthen the body in order to still the mind. Loosely based on the basic principles of Astanga yoga, but infused with elements from other traditions (Yin, Vinyasa Flow and Hatha), the class will help students establish the foundations of a yoga practice in a simple and accessible way. Raluca aims to make everyone welcome to yoga, regardless or body type, gender, age or physical ability.
Since all poses can be modified according to the student's needs, literally anyone can do yoga if they wish to! All you need is an open mind and the willingness to try.Although the class is aimed at beginners, anyone is welcome to join in.
Restore Yoga
Wednesdays 11am-12.15pm*
* Low-cost Community Class £7 per session
Click for more information
Restore yoga is a deliciously deep, mindful and reflective practice, that involves resting in simple, accessible postures for an extended period of time. The class will combine movement sequences, breath work and restorative postures. This practice helps regulate the energy flow, enhancing the flow of Chi (Life Force Energy), in the body.
Restore yoga targets deeper tissues such as the ligaments, joints, bones, and the deep fascia networks of the body focusing primarily on the spine, pelvis, and hips. 
Yoga Fusion 
Tuesdays at 11am- 12.30pm

Drop-in class, £14 per session; £10 concessions

Click for more information
This class explores many different elements of movement. Esther uses yogic practices, traditional postures and free movement in order to align your chakras and connect with your inner self.
Yoga Fusion invites each participant to experience a variety of dance styles and yoga methods, expressed through harmonious flow. It aids to develop intuition and enhance creative energy as well as to provide methods that help self- repair and self- empower.
Open to all levels.
Hatha Yoga 
Tuesdays 6.30 pm -7:45 pm, Wednesdays 9.15-10.45am, Thursday lunchtime 1-2pm  and Friday mornings* 9.15-10.45 am 

Tuesday/ Wednesday Drop-in class, £14 per session; £10 concessions

Thursday Lunch Drop-in class, £10 per session; £8 concessions

Friday Low-cost Community Class £7 per session*

Click for more information
Hatha Yoga is a life practice which ensures the evolution of the human individual. We initially use simple, set forms derived from the natural and human worlds, leading to sequential development of asana (posture) linked by vinyasa (fluid movement of body and breath). This culminates in the inner stability embodied in inverted postures and upright sitting, and the practical experience of meditation.
While challenging people to re-awaken their muscles and work tenaciously, she supports students in cultivating deep physical awareness with an underlying emphasis on self-care and the therapeutic benefit of each pose. Fluid, dynamic sequencing is balanced with restorative postures, and students are encouraged to move with full breath and uplifting intention.
These small-group classes are suitable  for all including beginners; personal adaptations are made where required.
The Feldenkrais Method
Fridays 5.00pm -6.15 pm 

Drop-in class, £14 per session; £10 concessions  

Click for more information
The Feldenkrais Method® offers a unique and practical way to realise our potential more fully. It is an educational method focusing on learning, movement and breathing in a context of mindfulness, which can bring about improved movement and enhanced functioning. It is named after its originator, Moshe Feldenkrais (1904-1984), an engineer and physicist as well as a Judo teacher. It is possible for anyone to learn, regardless of age or condition and it is all done with the minimum of effort.
Mysore Ashtanga Self Practice with Lauren Munday
Mondays to Fridays 7.00-9.00am
Click for more information
This
is the traditional way of learning the Ashtanga Yoga system, named after the town in India where its Guru, Sri Krisna Pattabhi Jois developed and taught the method. Mysore self-practice focuses on teaching each student individually within a group setting. The student works at their own pace and receives adjustments and guidance from the teacher when appropriate.
Beginners
If you are new to self-practice or any kind of yoga, you've come to the right place!  Mysore style self-practice is a great way to start your journey.
All newcomers learn a very straightforward, flowing sequence known as surya namaskar or the sun salute followed by some seated, breathing exercises and a relaxation. Your first practice will be between 30 and 45 minutes depending on how much time you have; and from then it will grow at a pace to suit you.
Ashtanga classes 
Friday lunchtime from 1-2pm

Lunchtime Drop-in class, £10 per session; £8 concessions  

Click for more information
Ashtanga Yoga starts with a simple, highly effective practice of movement aligned with breathing, known as vinyasa. Each vinyasa links a sequenced number of held postures (asanas). Repetition of the sequencing commits it to memory.  The sequences grow in length and complexity as the student progresses. By working in this way the student learns the practice one posture at a time and is able to progress at a pace that is appropriate for him or her. This makes Ashtanga Yoga suitable for all levels of practitioner
Qigong 
Mondays 9.15- 10.45am (90 mins)* and Mondays 1- 2pm (60 mins) and Wednesday evenings 6.30- 8pm

Monday 9.15am low-cost Community Class offered at £7 per session

Monday Lunchtime Drop-in class, £10 per session; £8 concessions

Wednesday Drop-in class, £14 per session; £10 concessions  

Click for more information
Qigong (or chi kung) is an ancient Chinese practice which brings together movement, breath and meditation to nourish the body, heart and mind.  Qigong can help to settle a busy mind, release tightness in the breath and body, and increase a sense of calm and wellbeing.
Classes will include slow, mindful movements guided by the breath; exercises to loosen, mobilise and strengthen the body; gentle partnerwork; explorations of traditional tai chi postures; and short standing meditation practices.  We will take a short break each class to refresh ourselves with some traditional Chinese teas (tea included in the class price).
Absolute beginners are very welcome and every exercise will be explained and demonstrated.  Some practical points: you do not need to be fit or flexible to take part – qigong is suitable for everyone; qigong is mostly practised standing up; please wear loose, comfortable clothing which allows you to move freely.
Maymay would like to pay her respects to her teacher Tim Spratt, with whom she has been training since 2008.  She continues to study, practice, and deepen her understanding.  For more information on this style of qigong, and other Chinese internal arts, please see 
www.timstudio.co.uk
. 
Maymay would be very happy to answer any questions or give more information – please contact her at
qigongwithmaymay@gmail.com
 or on 07877 283379.
Mindful Yoga for Relaxation 
Monday mornings, 11:00am to 12:30pm
Drop-in class, £14 per session; £10 concessions  
Click for more information
This is a deeply relaxing yoga class, with mindfulness of body, breath and movement threaded throughout.  
If you ever feel anxious, nervous, over-busy, stressed and tight in the body, this class will help you to breathe more deeply, settle your mind, find more ease in your body, and relax.
Each class will include breathing exercises, yoga postures and mindful movement, ending each time with a generous period of guided relaxation and rest.
This class is suitable for all levels – you do not need to be fit or flexible to take part, and absolute beginners are very welcome.
For more information, please contact Maymay at yogawithmaymay@gmail.com, 07877 283379, or visit www.facebook.com/beingfullyalivewithmaymay
Dynamic Yoga 
Thursday evenings, 6:30pm to 7:45pm

Drop-in class, £14 per session; £10 concessions  
Click for more information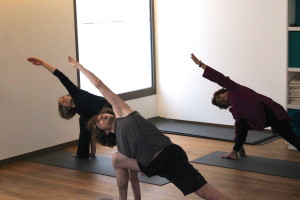 Join us for an energising and active class to feel both invigorated and relaxed.  Moving and flowing with the breath, we will explore postures which build strength, develop balance, and increase flexibility, finishing up with a period of relaxation and guided meditation practice.
This class is open to all levels – absolute beginners of yoga and meditation are very welcome.
For more information, please contact Maymay at yogawithmaymay@gmail.com, 07877 283379, or visit www.facebook.com/beingfullyalivewithmaymay