Yoga and Mental Health with Heather Mason
Sun Oct 30th 2016
9:30 am
5:30 pm
Booking required
£75
Heather Mason | Psychology Yoga & Mental Health
October 30, 2016
Sun 9:30-17:30
Heather Mason is the founder of The Minded Institute in London. This Yoga & Mental Health workshop provides essential information for all yoga teachers. More and more these days, we are on the 'frontline' with students suffering from anxiety, depression, serious mental health issues, and many on medication. Yoga is NOT a panacea for all things and can even be dangerous. Find out how you can help people with mental health issues and not increase their suffering.
This workshop focuses on mind-body techniques in the treatment of trauma, anxiety, depression and stress, combining the insights of therapeutic yoga, mindfulness, and psychotherapy.
Heather studied Buddhist meditation in SE Asia to overcome anxiety and depression. She is a 500-hr yoga teacher, has an MA in Buddhist Studies from SOAS University, an MA in Buddhism-based psychotherapy and an MSc in Medical Physiology. Heather developed a Mind Body degree program for Maryland University, has taught on the Mind Body medicine course at Harvard, and has lectured on neuroscience and PTSD at the
Boston Trauma Center.
For more info: http://www.eltonyoga.com/in-depth-yoga-workshops/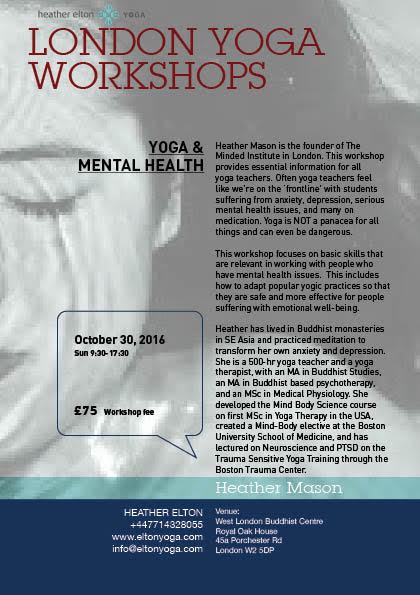 Booking
Full payment is required to make your booking. Please make sure you have read all the details on this page, and understand any specific commitments required before booking. Payments are non transferable but can be refunded up to 5 working days before the course starts (minus £20 cancellation fee). In the event of the course being cancelled, you will receive a full refund.
Please either click on the 'Book Online' button above, or write a cheque payable to West London Buddhist Centre and send with your booking request to:
The West London Buddhist Centre,
45a Porchester Rd,
London W2 5DP
Please include your name, email and phone number with your booking.