8 Week Mindfulness for Health Course
Fri Apr 10th 2015
May 29th 2015
2:30 pm
5:00 pm
Booking Required
Course fee Waged £300, some bursaries available, contact for more info
8 Fridays afternoons from 10 April to 29 May, 2.30pm to 5.00 pm with a  day retreat on Sunday  5 July.  Next course to be announced.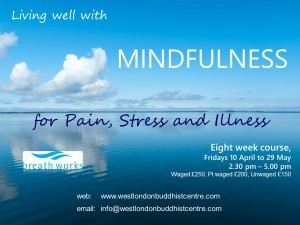 Mindfulness for Health is an 8 week mindfulness course from Breathworks which gives people living with pain and or stress and or illness tools to improve and transform their quality of life. Mindfulness is a state of awareness that enables us to make better choices about how we respond to our experiences even in difficult circumstances. The Breathworks approach to mindfulness is based on accepting our experience of pain, illness or stress and not reacting to it. With mindfulness we can clearly perceive thoughts, physical sensations, emotions and events at the moment they occur without reacting in an automatic or habitual way. The Mindfulness for Health course also includes a compassionate approach, which is  integrated with mindfulness from the very start.
'Mindfulness for Health' a practical guide to relieving pain, reducing stress and restoring well-being'  (the book which accompanies the course) recently won the British Medical Association award for Popular Medicine, the category in the 2014 Medical Book Awards for books aimed at the general public.
See Breathworks article from BBC
If you have specific medical or physical needs please contact the course leaders at info@wlbc.co.uk or phone 020 7727 9382. Please note the course is not appropriate for people in the middle of a severe depressive episode. It is also not a good idea to begin the mindfulness training if there is so much going on in your life that you are unable to commit to regular attendance and regular practice for the duration of the course.
Bodhilila has been meditating for 28 years and has a well established mindfulness practice. She has supported an MBCT course at the North London Buddhist Centre and supported MBSR courses at Breathing Space  (based at the London Buddhist Centre) and she recently co-led an MBSR course for Westminster Mind.
Pascual Quiles is an accredited Breathworks teacher who started meditating and supporting  Breathworks courses many years ago in Valencia,  Spain.
Bodhilila and Pascual Quiles