A Saxophone in a Cricket Pavilion – TLC and 'A Kind of Blueness'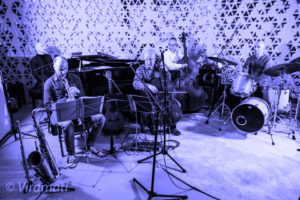 Ahead of 'A Kind of Blueness', an evening of jazz, song and world music by Time Loves Changes coming up on 3 November, Jonathan Cohen, who leads the group, shares how he first improvised his way into a life-long passion for music, and how he has recently found that coming together with his involvement in Buddhism at WLBC – and explains the rich resonances of the names of the group and the evening itself.
Advance booking for this event is highly recommended – book here
It may not have been the first existential opening door moment of my life, but at 15 I found myself after lessons at Manchester Grammar School exploring the deserted cricket pavilion, and discovering upstairs in a dusty corner amongst the strewn bats, pads, stumps and sport paraphernalia, a large case, which when opened, revealed a golden, though clearly long neglected, tenor saxophone. I took the horn home with me that afternoon, and instinctively (because I had never played a saxophone before), discovered I could improvise along with my jazz records. Two weeks later I returned the instrument to the school, and bought a used Selmer Mark 6 tenor saxophone of my own, the classic horn played by my heroes, John Coltrane, Sonny Rollins, Rahsaan Roland Kirk, and British saxophonist Barbara Thompson.
Another MGS boy in that same pavilion probably chose the bat and pads, and would go on to captain the school's first 11, and eventually the England cricket team. His name was Michael Atherton. No test centuries for me (so far), but on 3rd Nov '18, I'll be 'captaining' the Time Loves Changes Jazz/World Quartet from WLBC's Steinway grand piano in 'A Kind Of Blueness'.
It's not by chance that I came up with 'Time Loves Changes' as the ambiguous name for my group back in 2003.  'Changes' in jazz parlance mean the harmonic chord changes in a composition, and given that jazz is essentially a spontaneous groove-based dance form, where time and rhythm meet harmonic movement is, I reckon, where the interesting stuff happens.  And as well as some kind of quality of flow, feeling, joy and transformation, for me TLC is also where the heart meets the head and feet.  'Time Loves Changes' in its various ensembles and multi-arts forms has played new original and older borrowed work in settings where jazz may not usually reach: hospital atriums; street markets; literary festivals; conservatoires; sports grounds; and rural churches; and this will be our second performance at the West London Buddhist Centre after last year's premiere of the Quintet 's original  instrumental and song cycle, 'Buddha Dharma Sangha', (the first ever jazz concert at the Centre, alongside the regular high quality classical concert programme).
I've been coming to the Centre for nearly three years for meditation, the arts, philosophy, bodywork and community, but only really 'owned up' to my musical passions after a year, when one of the Centre teachers remarked while we were making herbal tea during a break, 'we should have some jazz here'. The Centre is very supportive of the creative arts generally, and see them as one of the ways to enhance and develop a Buddhist practice. I'm part of a team running the Centre's monthly Film Club, and played live improvised music as an accompaniment to a screening of Charlie Chaplin's silent movie 'Modern Times'; and as one of the 'house' musicians, play and sing for the regular Sangha Soirees (next one coming up on 17 November); and played at the launch of the Buddhist Arts magazine 'Urthona'.
I was at a Sangha Night talk by Paramananda in July, when alongside his use of poetry and prose to give insights into the teachings of Buddhism, he spoke about the musical 'blues' as being a way in which, like life, we can give form and expression to the difficulties and challenges we face – to make something beautiful and joyous out of something challenging and difficult. That seemed like a pretty good fit with what motivates me to create and share music, as a musician and composer, and as a music therapist in the NHS, in the community and in education, and the title 'A Kind Of Blueness' came to me.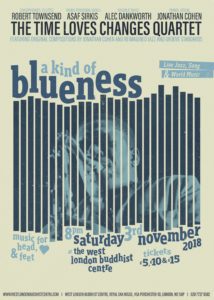 'Kind Of Blue' is the 1959 game-changing album by the Miles Davis Sextet which so eloquently and beautifully combines jazz improvisation, elements of classicism, romanticism, modal folk forms and the 'blues'. In that spirit, 'A Kind of Blueness' mixes original compositions of mine taken from the two TLC Sextet/Octet CDs 'Little Gidding – A Place In And Out Of Time' (featuring Alec Dankworth and Paul Clarvis) and 'Life Cycles' (featuring Christine Tobin); 'Buddha Dharma Sangha'; and new originals; with re-imagined arrangements of compositions and songs by Miles Davis, Charlie Parker, Herbie Hancock, Charles Mingus, Gabriel Faure, Joni Mitchell, the Beatles, and others. The essence of the 'blues' comes in many forms. So too 'Blueness' can have many moods and qualities.
I'm honoured as always to be joined again by internationally acclaimed and gifted jazz/world music improvisers Alec Dankworth, Asaf Sirkis and Robert Townsend (see their bios here), to create what we hope will be another special evening, with the usual Centre hospitality and collectivity, and enhanced by the inspiring lighting, crafted, fabric and atmospheric creations of puppeteer and artist Manju Gregory.
I look forward to sharing 'A Kind Of Blueness', music (and words) for head, heart and feet.
Jonathan Cohen
A Kind of Blueness
Jazz, song and world music with the Time Loves Changes Quartet
Saturday 3 November 8pm
£15 Full waged / £10 Part waged / £5 Unwaged
Booking highly recommended