City Retreat: Building the Buddha Land
Wed Dec 25th 2019
Wed Jan 1st 2020
10:30 am
9:00 pm
Booking not required
By donation
The Buddha outlined four activities that conduce to a richer experience of friendship and community, traditionally known as the Four Means to Unification (Samgrahavastus, in Sanskrit). These activities are: generosity, kind speech, beneficial activity and exemplification. They are all about sharing – primarily sharing the gift of the Dharma. They also form the basis of true friendship – the sharing of the best of ourselves. This year at the WLBC we are exploring the archetypal Buddha Ratnasambhava, the Buddha of abundance. When we all share the best of ourselves with those around us our communal cup cannot but be full to overflowing.
Our annual non-residential City Retreat provides a special programme of meditation, reflection and ritual over the holiday period, running from 25 December to 1 January inclusive, with a late night session on 31 December to see-in the New Year.
People are welcome to join any part of the day, but will need to enter the Centre at specific times, as the reception will not be staffed.
Entry times: 10-10.30am, 1-2pm, 6-7.30pm with the following exceptions: On 28 December the the evening entry times will be 6-7pm and the evening programme will start at 7pm, finishing at 9.30pm. On 31 January there will be an additional point of entry at 9-9.30pm.
Food arrangements: Bring vegan lunch to share. We will provide simple, vegan dinners for which people need to sign-up either at the Centre or by emailing info@westlondonbuddhistcentre.com by lunchtime on the day. The suggested donation towards dinner is £10. We are looking for volunteers to cook the dinners over the eight day period. Please do email if you can help. 
A link to the full programme for the retreat is available here (leaders of the morning meditation sessions will be confirmed in due course).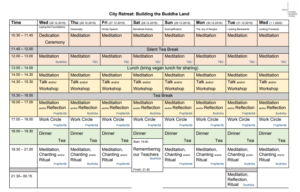 Led by Bodhilila, Paramananda, Prajnanita & Sudurjaya