Jazz, classical and flamenco guitar – recital by David Minguillon
Sat Jun 8th 2019
7:00 pm
9:30 pm
Booking required
£17 Full waged / £12 Part waged / £7 Unwaged Our arts events can sell out - advance booking highly recommended. Number of £7 tickets limited.
Up-and-coming guitarist David Minguillon mingles traditional folkloric Spanish sounds and rhythms with jazz and classical favourites. 
The proceeds of this event are being divided between the Centre and David to support him going on a five month intensive residential Dharma training course at Adhisthana later this year. During the evening there will be an opportunity (but no obligation) to give funds help him to undertake this challenging and significant undertaking.
Hear David play:

About David Minguillon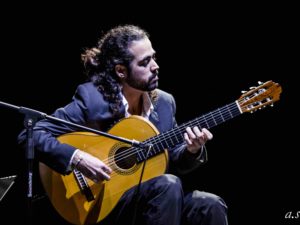 David became passionate about music at a young age and, after playing the piano for a few years, he picked up his first guitar at the age of 17. After few years of lessons with different teachers, David started studying at the Canary Islands Conservatory, where he obtained a bachelors degree in classical guitar. In the meantime time he recorded his first album, "Mei", a tribute to his grandfather, based on own compositions and with the collaboration of a number of leading musicians.
Having studied classical guitar, he moved to Granada where he made contact with flamenco and jazz musicians from the area, and performed regularly as a solo guitarist. He was then accepted into a Masters program in Jazz guitar in the Netherlands. During this period David put his focus on improvising and composing, as well as flamenco lessons at the Conservatories of Amsterdam and Rotterdam.
In 2014 he released his second álbum "Puerto del Mar" (96kmusic) with collaborators such as Jorge Pardo (flute) and Kike Perdomo (sax), which reflects the mixture of the jazz and flamenco that he had being working with in recent years. In 2015 he won the first scholarship from Fundación Cajacanarias to study in the prestigious Berklee School of Music in Valencia, and he started playing with teachers Victor Mendoza, Perico Sambeat, Mariano Steimberg and Sergio Martinez, among others.
He has performed on many stages throughout Europe and North Africa, including: Les Recontres Méditerranéennes de la Guitare (Morocco), Spanish Embassy in Paris (France), Jazz Maastricht (Netherlands), Maastricht University (Netherlands), Theater La Bonbonniére with grupo Zyryab and Jeronimo Maya (Netherlands), Badcuyp (Netherlands), Aachen (Germany), Muze (Belgium), Festival Internacional de Cine de Tenerife (FIMUCITÉ) (Spain), "VII Festival Jóvenes Promesas de Arona" (where he won the first prie performing one of his own compositions) (Spain), Contemporary Dance Festival "Canarios Dentro y Fuera" (Spain), IV Festival de la Guitarra de la Laguna (Spain), Auditorium Adán Martín (Spain), Bimbache jazz y Raices (Spain) – among many others.
Booking
The easiest way to book is online - just click the button below.
Please make sure you have read all the details of the event, have made sure you are eligible to attend (eg for 'going deeper' events) and are willing to make any commitments that are required.
Bookings are fully refundable up to 7 days in advance. After that we cannot usually offer refunds.
You can also book in person at the Centre, or by sending a cheque payable to West London Buddhist Centre along with your name, email and phone number and the name and date of the event to:
The West London Buddhist Centre,
45a Porchester Rd,
London W2 5DP
Please include your name, email and phone number with your booking.