CANCELLED Film Club: MAYBE IT'S BECAUSE WE'RE ALL LONDONERS
Sat Mar 21st 2020
6:00 pm
9:00 pm
Booking not required
By donation
WLBC's Film Club shows top notch films that have a connection (direct or oblique) to Buddhist teachings, selected and introduced by people from the WLBC sangha (community) and often accompanied by food, drink or music related to the film. Join us to enjoy and discuss the film, and to hang out.
This month Jonathan Cohen will be presenting an evening of film and music celebrating London. The evening will include a special double bill of Patrick Keiller's 'LONDON' and John Betjeman's 'METRO-LAND' with Intermission Live Music, Song and Refreshments at Waterloo Sunset!
Jonathan writes
"Another in the sequence of monthly celebrations in Film, Music, Song, Discussion, Refreshment and Sharing, these two London-themed films offer wry, surreal sideways views on aspects of the special city and its landscapes that unite all who have found their lives converging on the multiple event horizons of London. Whatever our gig or personal narrative may be, we all have a special place in our hearts for this unique corner of the universe, and by implication, it for us. Landscape rendered as visual poetry. This is our first 'double bill' at WLBC FilmClub, and there will be live music and song on the theme of London during the intermission."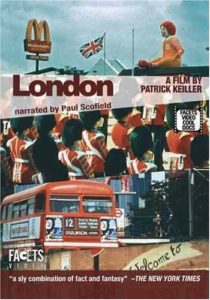 London (1994)
In 1992, the filmmaker Patrick Keiller spent his time filming around London under the guise of a fictional flâneur known as Robinson – a name citing Daniel Defoe's trapped castaway. The resulting film, London, was released in 1994.
Patiently capturing the city moving about its business, but with emphasis upon the quiet, historical undercurrents that ebb and flow under its many streets and buildings, it traces the modest flats of famous poets, views that inspired great painters, the fallout from the 1992 general election and even the shocking aftermath of an IRA bombing.
The film is idiosyncratic in its interests and meandering, quite literally, in its desire to show the many layers within the palimpsest of a city.
Narrated by the genteel tones of Paul Scofield, Keiller's essay film shows the greying rumbles of a city in the dying grips of Thatcherism, while tackling a huge range of inner-city problems that are still sadly relevant today.
With the capital changing at a rate of acceleration that's almost impossible to keep up with, I tracked the director down to discuss his film and its relationship to the morphing metropolis 25 years after he and Robinson wandered through the layers of its deep history.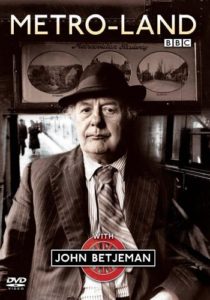 Metro-Land (1973)
BBC, tx. 26/2/1973, 50 mins, colour
Producer Edward Mirzoeff
Production Company BBC Television
Written by John Betjeman
Photography John McGlashan
Cast: John Betjeman
John Betjeman (Poet Laureate and saver of St Pancras Station) takes us on a trip on the Metropolitan Line through north-west London into Buckinghamshire.
Metro-Land is widely regarded as John Betjeman's television masterpiece, and it's easy to see why. Although it's based on what by 1973 was a very familiar formula, that of the newly-appointed Poet Laureate taking a train trip and examining points of interest along the way, the north-western branch of London's Metropolitan Line from Baker Street to Amersham and beyond offered an unusually large amount of historical, social, cultural and architectural interest.
Early research turned up a major find in the form of the 1910 film A Trip on the Metropolitan Railway. This charted a similar journey made some 62 years earlier, showing what the surrounding landscape looked like before suburban housing was constructed to take advantage of the commuting potential. Much of this happened between the First and Second World Wars, and the area was popularly known as 'Metro-Land'.
After a delightful title sequence in which a sneak preview of the entire journey is given in speeded-up form, Betjeman's journey takes us through the defunct Marlborough Road station (now an Angus Steak House) through Neasden and Wembley, where we hear about 'Watkin's Folly', a doomed attempt at rivalling the then-new Eiffel Tower that was sponsored by Metropolitan Railway chairman Sir Edward Watkin in 1890.
Then to Harrow, where exotically-named houses rub shoulders with the famous public school. At Moor Park, trompe l'oeil paintings adorn the ceiling of the golf club, and Betjeman's initial failure to hit the ball produced a reaction so delicious that it made the final cut. He also drops in on a meeting of the all-female Byron Luncheon Club, and pays a visit to Grim's Dyke, the house where the great lyricist W.S. Gilbert lived, and in whose grounds he met his death when saving a young woman from drowning.
Betjeman regards Chorley Wood as "essential Metro-Land", a perfect balance of town and country, the site of the architect C.F.A. Voysey's self-designed family home, and of Len Rawle's lock, stock and barrel relocation of the mighty Wurlitzer organ originally installed in a Leicester Square cinema.
The programme ends on a typically wistful note, as Betjeman travels to the end of the original line, its Quainton Road and Verney Junction stations long defunct, their original ambitions to be the hub of central England's train network unrealised. But, Betjeman concludes as he looks over at the verdant Buckinghamshire woods, this may not have been altogether a bad thing.