Traditional Irish & Celtic folk fusion with Jacquelyn Hynes & J.Eoin
Sat Sep 28th 2019
7:00 pm
9:30 pm
Booking not required
£15 Full waged / £12 Part waged / £8 Unwaged Our arts events can sell out - advance booking highly recommended. Number of £8 tickets limited.
An enchanting and entertaining evening of traditional Irish & Celtic folk fusion from 'exceptionally talented' (Irish World) folk flutist Jacquelyn Hynes and sublime Irish singer/songwriter J. Eoin.
Jacquelyn Hynes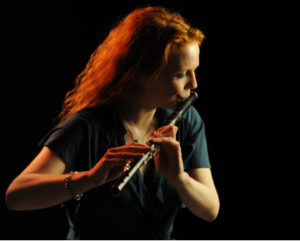 "Inventive flautist" Time Out (Critic's Choice)
"Exceptionally talented" Irish World
"Full of innovation and imagination…bewitching." Irish Post 
"Haunting and wonderful" Telegraph (Folk Albums of the Year) 
"Ethereal and other-worldly but also attractively contemporary" Irish World
Jacquelyn performs world-wide as a solo artist, in her trio or as a performer with other bands and projects, playing at many major venues including the QEH, Barbican, Roundhouse, Spitalfields Music Festival, Folk Alliance International 2015 (official showcase artist), Sidmouth Folk Festival among many other venues and festivals.
Her debut CD 'Silver and Wood' was released to critical acclaim in 2014. In 2015, this was followed by a UK tour of 'Silver and Wood' with the Jacquelyn Hynes Trio supported by Arts Council England; an official show-case artist performance at Folk Alliance International in Kansas, M.O. and a solo tour of Italy for Donne in Musica's Concert Series 'Incontri Con Le Compositrici', which featured the works of six female composers and included two of Jacquelyn's own works.
Jacquelyn's Folk/World project Avalonia has featured many leading world and jazz musicians including Najma Akhtar, Stuart Hall, Hossam Ramzi, Zinga Rabhi and Merit-Ariane Stephanos. She was awarded the Katherine McGillivray 'Get A Life Fund' for musicians which facilitated an MA in performance at The Irish World Academy completed in 2010.
She has worked for over 30 theatre companies as an actor ("Rare charisma" The Stage) and composed music for theatre including the mad songs for KAOS Theatre's Hamlet ("A tortured and Pre-Raphaelite Ophelia" – The Stage) the KAOS Kassandra, a song for Merlin at the Riverside Studios London (in which she played Guinevere) and Sinan Unel's Pera Palas at the Arcola Theatre Dalston and was commissioned by Tyneside Irish Festival to compose the music for their reminiscence theatre piece "Father Cass' Bodhran". Recently Jacquelyn appeared as young Sister Bernadette in Sally Mulready's play "Nun's Chorus" for the Irish Elders Culture Office.
As an educator, Jacquelyn is Flute and Folk lecturer at Morley College London, Flute and Whistle tutor at the Irish Cultural Centre, London; Folk Whistle Tutor at EFDSS London and Senior Lecturer in Folk at Leeds College of Music.
Read a review of Jacquelyn's latest concert here
J. Eoin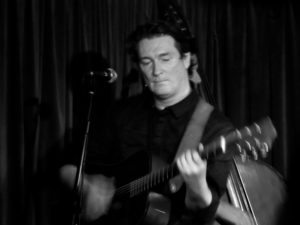 "Steeped in Irish history and mythology" Guardian 
"Totally modern and enchanting songs" Irish Post 
"A truly gifted songwriter" Musician Magazine 
Eoin tours internationally as an Irish Folk singer/contemporary songwriter and works as a traditional accompanist with a variety of instrumental players in the UK and across Europe.
He released his first full studio album 'Exiles' under the name J. Owen with Natural5Four Records in 2005. He subsequently released a number of other self penned CD's as J. Eoin including 2013's 'Acrobat' which was the number one choice on Czech Republic National Radio during December 2014.
'Sunshowers', released in March 2018, features songs recorded 'live in the Rua Room' during June 2017 and edits from the 'J Eoin – Live in Toogenblik' concert recorded in Brussels July 2016.
"J Eoin is a powerful singer, a fine guitarist and a truly gifted songwriter. His background of growing up in the West of Ireland with a native Irish-speaking mother combined with spending his professional years in London has given him a wide range of experiences to draw on for his thoughtful material" – Malcolm Rogers – Irish Post 
Listen to a selection of J Eoin's music here
Booking
The easiest way to book is online - just click the button below.
Please make sure you have read all the details of the event, have made sure you are eligible to attend (eg for 'going deeper' events) and are willing to make any commitments that are required.
Bookings are fully refundable up to 7 days in advance. After that we cannot usually offer refunds.
You can also book in person at the Centre, or by sending a cheque payable to West London Buddhist Centre along with your name, email and phone number and the name and date of the event to:
The West London Buddhist Centre,
45a Porchester Rd,
London W2 5DP
Please include your name, email and phone number with your booking.