Wolf at the Door: Imagination as Knowing
Sat Feb 4th 2023
Sun Feb 5th 2023
10:00 am
5:00 pm
Booking required
£100 / £70 / £55
'Imagination is the eye of the soul'
– Joseph Joubert
Many writers have felt that of all the ways of knowing and understanding, the imagination is the deepest, subtlest, most intuitive and direct. By venturing out in our writing and trusting it, it can reveal worlds to us that we didn't think we knew – yet were somehow always ours.
The well-loved 20th Century American poet William Stafford felt that by writing a poem, he discovered what he, or it, wanted to say – and thereby revealed new understandings to himself. He once said: 'At the moment of writing, when one of those fortunate strokes of composition takes place… something like a revelation comes. For that instant, conceiving is knowing; the secret life in language reveals the very self of things.'
Can we learn something that we didn't already consciously know, by our own writing? Perhaps we do already know, or have a sense of, what we would like to be able to write down but can't always find the right alchemy of words that can reveal it fully.
Wolf at the Door workshops can act as a safe context for such transformative experiments. Through varied exercises, prompts and activities, we can convert the ore of our everyday minds into surprisingly rich gold. By listening attentively to each other's words during optional readings, we can help to burnish that gold brighter and even uncover more beauty beneath it. Wolf at the Door offers a friendly and nurturing way of exploring the imagination through writing, with the help of a little meditation and, sometimes, ritual. No writing experience is necessary, just a willingness to step through a door into new creative spaces, accompanied by experienced guides.
What to expect and contact info
Open to all. You do not need to have been on any previous Wolf at the Door weekends in order to attend this one, and no writing experience is necessary. Even if you do write regularly, we hope you would enjoy the workshop too. Apart from a willingness to dive into the imagination, all you need to bring with you is a pen and plenty of paper – which we do recommend rather than electronic devices.
Leaders will set up a variety of activities to stimulate the imagination and get you writing. There will be opportunities to read out what you've written so that others can hear it but this is an invitation, not a requirement. The focus of the weekend is on enjoying our exploration of writing and letting the imagination flow rather than on technique or critical feedback, although the leaders may introduce general tips. Each day will run from 10.00 – 5.00, with an hour for lunch 1.00 – 2.00 and tea breaks. Lunch will not be provided so you may like to bring your own lunch to eat at the Buddhist Centre or explore the many cafes and restaurants roundabout.
Queries related to the programme (only) can be emailed to Dharmavadana
Please contact the West London Buddhist Centre for bookings and other enquiries.
Much more information about Wolf at the Door writing workshops can be found here.
Places will be limited to 18 to help ensure everyone has a chance to fully take part. Booking is required by payment of a fee and must be for both the Saturday and Sunday, as we give out vital introductory guidance on the Saturday. Please note that if you need to cancel less than seven days before the start of the weekend, we will be unable to give you a refund.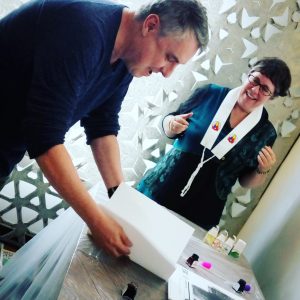 Vishvantara (r) has been reading and writing poetry since childhood and her debut pamphlet Cursive was published by HappenStance Press in 2015. She has twice been commended in the National Poetry Competition and won first prize in the Poetry London competition. Vishvantara has been associated with Wolf at the Door for over 20 years and, like Dharmavadana, has been co-leading its writing workshops for seven years.  Ordained into the Triratna Buddhist Order in 2005, she teaches at the London Buddhist Centre.
Dharmavadana (l) has been an aficionado of the imagination since childhood, and writes to explore it and make sense of experience. His short stories and poems have appeared in various magazines and anthologies and he is the poetry editor of the Triratna arts magazine Urthona. A Wolf at the Door writing retreat at Dhanakosa, Scotland, in 2000 showed him he could combine his loves of writing and the Dharma and he is delighted to be able to offer such retreats and workshops himself.
Booking
The easiest way to book is online - just click the button below.
Please make sure you have read all the details of the event, have made sure you are eligible to attend (eg for 'going deeper' events) and are willing to make any commitments that are required.
Bookings are fully refundable up to 7 days in advance. After that we cannot usually offer refunds.
You can also book in person at the Centre, or by sending a cheque payable to West London Buddhist Centre along with your name, email and phone number and the name and date of the event to:
The West London Buddhist Centre,
45a Porchester Rd,
London W2 5DP
Please include your name, email and phone number with your booking.