Wolf at the Door: In-Person Writing Weekend
Sat Dec 11th 2021
Sun Dec 12th 2021
10:00 am
5:00 pm
Booking required
This in-person event runs from Saturday 11 – Sunday 12 December, 10am-5pm. You must be able to attend both days. Please read the Covid precautions below before making your booking. 
As we move through December the days are nearing the Winter Solstice, when the weather and shorter days encourage exploration of quietness and going inward. It's a time for us to follow the natural world, which is secretly preparing for renewal under the apparent winter bareness on the surface of this precious season.
The imagination makes available and harmonises what may seem contrary energies within us and makes a spiritual life possible. Wolf at the Door offers a friendly and nurturing way of exploring this essential human faculty through writing, with the help of a little meditation and ritual. No writing experience is necessary, just a willingness to step through a door into new creative spaces, accompanied by experienced guides.
Join us on our winter journey of discovery on a weekend of writing and sharing.
What to expect
This will be the first in person Wolf at the Door weekend at the West London Buddhist Centre in many months, unless circumstances change, and the fourth of our WLBC weekends this year. You do not need to have been on any previous weekends in order to attend this one.
The basic format is that the leaders will set up a variety of activities to stimulate the imagination and get you writing. There will be opportunities to read out what you've written so that others can hear it, but this is an invitation not a requirement. The focus of the weekend is on enjoying our exploration of writing, and letting the imagination flower, rather than on technique or critical feedback, although the leaders may introduce general tips. Each day will run from 10.00 – 5.00, with an hour for lunch 1.00 – 2.00 and tea breaks.
Apart from a willingness to dive into the imagination, all you need to bring with you is a pen and plenty of paper.
Practicals
Lunch will not be provided so you may like to bring your own to eat at the Centre, or explore the many cafes and restaurants roundabout – you may prefer the latter if you wish to stay away from the busy Centre for Covid hygiene reasons.
Places will be limited to 13 to allow an amount of social distancing during the workshop.
Your guides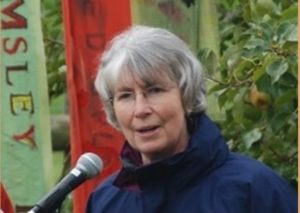 Varasahaya lives on the Welsh Border in Herefordshire. She discovered Wolf at the Door in 2000 and has benefitted from writing practice with all its mystery and surprises and from the friendship of other Wolf writers. Some of her poems have been published in magazines and her first collection Moon Skin Coat came out in June 2016. She often leads and co-leads retreats including as a team member on our annual writing retreats at Dhanakosa.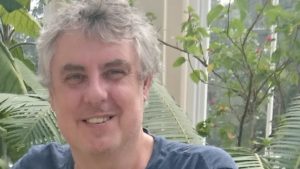 Dharmavadana has been an aficionado of the imagination since childhood, and writes to explore it and make sense of experience. His short stories and poems have appeared in various magazines and anthologies and he is the poetry editor of the Triratna arts magazine Urthona. A Wolf at the Door writing retreat at Dhanakosa in Scotland in 2000 made him realise he could combine his loves of writing and the Dharma, and he has been delighted in more recent years to be able to offer such retreats and workshops himself.
Booking and cancellations
Please book your place via Eventbrite: https://www.eventbrite.co.uk/e/wolf-at-the-door-in-person-writing-weekend-tickets-196483927717
Booking is required by payment of a fee and must be for both the Saturday and Sunday, as we give out vital introductory guidance on the Saturday.
Please note that if you need to cancel less than seven days before the start of the weekend, we will be unable to give you a refund, unless your cancellation is due to a confirmed case of Covid.
Covid hygiene precautions
Although the government currently has no Covid hygiene guidance we are practising awareness around this issue.
Note that on the Saturday morning of the workshop you will need to be prepared to confirm a negative result from a lateral flow Covid test that you have carried out before leaving to travel to the Centre.
On the Saturday of the workshop we will be in a room whose windows are not designed to be opened. However, there is an environmentally friendly aircon system which draws fresh air in. We will also be socially distancing as far as we can. If the weekend is fully booked there will be sixteen of us, including the two leaders and a support person, but we will still be able to put some space between our chairs. You are welcome to wear a mask if you feel more confident doing so. Antiviral gel will be available to attendees and leaders. On the Sunday we will be able to move into our main shrine room, which does have openable windows.
On the Saturday also other classes will be taking place in other parts of the Buddhist Centre, and we will be planning our breaks so that there are not too many people in the reception area for tea at the same time. Participants of the other classes may be entering and leaving the building or assembling in the reception area between 1 and 2 p.m. as well and, as indicated above, you may wish to leave the building for lunch.
We strongly advise that you only book on the weekend if you are comfortable with all the above arrangements.
Contact
Queries related to the programme can be emailed to Dharmavadana: dharmavadana@btinternet.com
Please contact the West London Buddhist Centre office for bookings and other enquiries.
Much more information about Wolf at the Door writing workshops can be found here: www.wolfatthedoor.org
Varasahaya and Dharmavadana