Journey to the underworld – an evening of story and ritual using puppets
Sat Nov 25th 2017
7:00 pm
Booking required
Suggested donation £10-£30
Numbers limited. Registration recommended.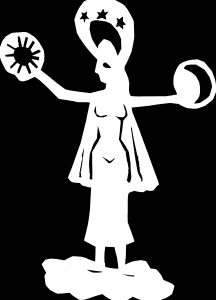 This evening of ritual and storytelling brings vividly to life one of the oldest and most powerful of myths – the journey to the underworld. Using shadow and string puppets, Mandarava tells part of the ancient Sumerian story of the 'Descent of Inanna', drawing out its many layers, meanings and mysteries.
Mandarava is a storyteller, puppet maker and creator of rituals widely celebrated for her artistry and skill. She currently lives and works at Rivendell retreat centre. For the last 7 years has collaborated on many retreats with Paramananda and Atula exploring the realms of myth, symbol and image. Previously she has worked in professional theatre and opera as a puppet maker and puppeteer.
Numbers limited. Registration recommended.
Registration secures a place which will be held until 6.50pm on the day of the event. Registration is free; donations can be made at the event and are very welcome. Click here to register.