Mindfulness Based Addiction Recovery (MBAR) Training for Health Professionals and Mindfulness Teachers
Mindfulness Based Addiction Recovery (MBAR) Training for Health Professionals and Mindfulness Teachers
About the Training
MBAR is a mindfulness-based approach to preventing relapse and promoting recovery from addiction. Originally called mindfulness-based re-lapse prevention (MBRP), the course was developed by Dr. Paramabandhu Groves (in collaboration with Valerie Mason-John). Dr Groves has led it at Breathing Space and in the NHS since 2005. Valerie Mason-John has also delivered the course in the UK, Europe, Mexico, Canada and USA. The course can be delivered 2 hours a week for 6 to 8 consecutive weeks.
The training will cover mindfulness and meditative techniques including three minute breathing space, four basic needs of the heart, body scan, and working with difficulties in meditation. MBAR models such as the vicious cycle, fact and interpretation, triggers and high risk situations will be introduced. There will also be personal reflection and rehearsal of parts of the course.
Who is the Training for?
The training is for experienced meditation practitioners, people with an understanding of mindfulness, and health care providers working in the field of addiction. Group skills and teaching skills preferred but not an absolute requirement.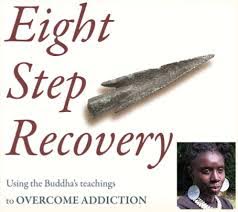 Outcomes of the Training
• Understand the MBAR course and be able to co/facilitate the course
in your institution as part of your work practice or at your local
Buddhist centre.
• Deliver segments of the course in a group or one to one setting.
• Understand the nature of addiction, triggers, and compulsive
behaviours and how it relates to your own life.
• Understanding of meditation and mindfulness in relation to addiction.
• Identify your existing skills in working effectively with mindfulness for addictions and compulsive behaviours and increase your confidence in applying them.
To make the most of this training it is helpful if you can take part in a MBAR course as a participant. (This is not compulsory). I will be delivering an online 4 week course the month of July. Click MBAR for more information.
If you have a question or would like more information about the training please email eightstepsrecovery [at] gmail [dot] com
As part of the training you will receive:
· A PDF manual of the course with handouts for participants.
· Downloads of the guided meditations.
· A copy of Eight Step Recovery.
_____________________________________________________
This intensive NON residential training, takes place:
Dates: October Friday 28th – to Sunday 30th
Times: 9.30am – 5.30pm daily.
Venue: West London Buddhist Centre Royal Oak House, 45a Porchester Rd, London W2 5DP
Trainer: Valerie Mason-John.
Cost: £600 high waged/organisations
£500 medium
£400 low income/concessions.
£50 Early Bird discount  till 28th September
more info on the trainer TEDx Talk
Valerie Mason-John (Vimalasara) is co-founder of Healing and Insight and co-author of "Eight Step Recovery: Using The Buddha's Teachings to Overcome Addiction"