Meditation and Mindfulness Day for Beginners
Sun Sep 6th 2015
10:30 am
5:00 pm
Booking Required
£50 full wage; £35 low wage; £20 concessions/unwaged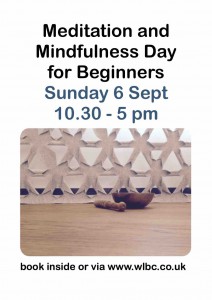 A thorough introduction to mindfulness meditation, including meditations focusing on body awareness and bringing more awareness to the flow of our experience as well as instruction in the Mindfulness of Breathing meditation practice. The day will also introduce mindful walking and explore how to bring mindfulness into everyday life. There will be guidance on posture and setting up a meditation practice as well as opportunities for questions and discussion about meditation.
Lunch is not provided, so if you would like to, do bring along vegetarian food to share.
Booking
The easiest way to book is online - just click the button below.
Please make sure you have read all the details of the event, have made sure you are eligible to attend (eg for 'going deeper' events) and are willing to make any commitments that are required.
Bookings are fully refundable up to 7 days in advance. After that we cannot usually offer refunds.
You can also book in person at the Centre, or by sending a cheque payable to West London Buddhist Centre along with your name, email and phone number and the name and date of the event to:
The West London Buddhist Centre,
45a Porchester Rd,
London W2 5DP
Please include your name, email and phone number with your booking.