Qigong
Mondays and Thursdays
9:15 am
10:45 am
Booking required
low-cost Community Class offered at £8 per session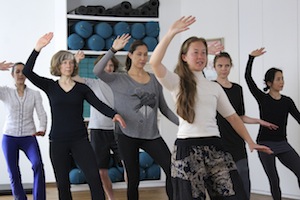 Qigong (or chi kung) is an ancient Chinese practice which brings together movement, breath and meditation to nourish the body, heart and mind. Qigong can help to settle a busy mind, release tightness in the breath and body, and increase a sense of calm and wellbeing.
Classes will include slow, mindful movements guided by the breath; exercises to loosen, mobilise and strengthen the body; gentle partnerwork; explorations of traditional tai chi postures; and short standing meditation practices. We will take a short break each class to refresh ourselves with some traditional Chinese teas (tea included in the class price.)
Absolute beginners are very welcome and every exercise will be explained and demonstrated. Some practical points: you do not need to be fit or flexible to take part – qigong is suitable for everyone; qigong is mostly practised standing up; please wear loose, comfortable clothing which allows you to move freely.
For more information on this style of qigong, and other Chinese internal arts, please see www.timstudio.co.uk.
Maymay would be very happy to answer any questions or give more information – please contact her at qigongwithmaymay@gmail.com or on 07877 283379