Strictly Come Cleaning…with Hanka Dilley (for now)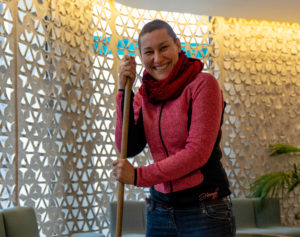 Yes! I am doing a 12-hour clean-a-thon for the West London Buddhist Centre to raise at least £3,000 for my three-month ordination course in Spain in April.
Please sponsor me and come along to cheer me on at WLBC on Sunday 17th March 2019, anytime from 6 am to 6 pm. There will be music for your ears, an opportunity to join in cleaning and a bowl to put in your offerings.
Let's see what's possible…
You can listen to Hanka talking with others in the Centre team about what it was like to get the invitation letter, and what ordination into the Triratna Buddhist Order means to her at this important milestone in the ordination training process.