Urthona launch
Sat Jul 1st 2017
7:00 pm
9:00 pm
Booking N/A
By donation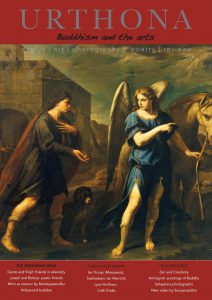 An evening of poetry, music and meditation to launch this year's edition of Urthona, Triratna's journal of Buddhism and the arts, which will be available on the night.
You can hear readings from four poets featured in this issue, Caroline Maldonado, Cath Drake, Ian Marriott and Subhadassi, as well as Satyadaka reading his brilliant new Rilke translations, and editor Ratnagarbha with translations from Dante.
There'll also be music from the Bright Moments Duo, Jonathan Cohen (Piano) and Francois Moreau (Double Bass), playing jazz and latin standards and their own originals. And some surprises! (Jonathan Cohen is also performing his new work 'Buddha-Dharma-Sangha' with Alec Dankworth and his 'Time Loves Changes' Jazz Quintet at the Centre on 4 June.)
The evening starts with meditation in the main shrine room at 6pm, introduced and guided for those who are new to it.