Yoga Teacher Training with Heather Elton
Sat Sep 10th 2016
Sep 11th 2016
Booking required
Cost: £2695 for 12 weekends:
Sept 10 & 11, 17 & 18, Oct 1 & 2, 15 & 16, 22 & 23, 29 & 30, Nov 5 & 6, 12 & 13, 19 & 20, 26 & 27, Dec 3 & 4, 10 & 11
200 RYT Yoga Alliance Accreditation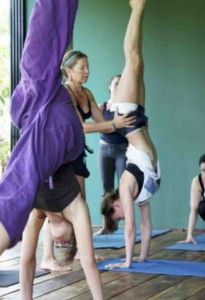 Space is limited to 16 students – to ensure a place in the program we encourage you to apply early.
Heather Elton has been practicing yoga for 35 years and teaches and trains in London, Europe, Goa and Nepal. This Level 1 training provides an overview of different aspects of yoga. It's designed to give you a taste of what it means to be a yogi. By the end of the training you will have:
A skillful and varied asana practice;
An understanding of basic yoga philosophy and the ability to integrate it into your teachings
An understanding of basic anatomy and alignment so you can prevent injuries in your students and yourself
Begun a genuine spiritual practice
Had an experience that will provide you lifelong inspiration and context to teach yoga
Become able to make an informed decision about what aspects of yoga you like, as well as what you want to practice and teach.
Pre-requisities
To be accepted on the training, you need to have a regular yoga practice of 4 times a week for at least two years. This is to ensure that you have the necessary physical stamina and mental discipline.
To apply for the course, please send your full name and your email address to info [ at] eltonyoga [dot] com
For more information see www.eltonyoga.com/london-yoga-teacher-training/
Heather's Approach
Heather has taught Astanga and Vinyasa Flow, as well as technical Hatha Yoga, in London since 2002. She also teaches international workshops and yoga retreats, , including the innovative 'Yoga Adventure in Nepal', a cultural/spiritual tour to sacred sights.
She says: My aim is to reveal the spiritual path underlying the practice and the technology to stabilize the mind, so we can shed the veils of Maya perpetuated by the ego, glimpse at our true nature and liberate ourselves from suffering. My approach is a deep physical and psychological practice that moves beyond a mere physical experience to make the spiritual yogic inquiry authentic and relevant to real life.
Heather's Yoga Experience and Philosophy
Heather began Hatha Yoga (BKS Iyengar) in 1986 and her yoga path has involved extensive studies with brilliant teachers from around the world., including Ashtanga Vinyasa Yoga with Sri K Pattabhi Jois in Mysore. Nancy Gilgoff was her first Ashtanga teacher. She completed a 200-level Yoga Teacher Training with Richard Freeman (2004), and a 200+ level training focusing on the traditional Krishnamacharya method with Sri BNS lyengar at the Patanajala Yoga Shala in Mysore (2008).   On the Vinyasa Flow side of yoga, Heather completed the Tripsichore Yoga Theatre Teacher Training with Edward Clark (2002). David Life and Sharon Gannon (Jivamukti Studios) and Emil Wendel (Beyond the Asana) are also inspirational people and teachers. More recently, her yogic path has led back to the alignment principles of BKS Iyengar and she studies with Alaric Newcombe in London. Throughout her yogic journey, Heather tries to keep an open mind about the practice and try not to succumb to dogma."
Heather Elton (Asana Technique & Teaching Methodology), Stuart Girling (Anatomy & Physiology), Daniel Simpson (Philosophy), Leela Miller and guest teachers.