Bhante's Bardo Logbook *updated daily*
Following the death of Sangharakshita, the founder of the Triratna Buddhist Order, on Tuesday 30 October 2018, the team at West London Buddhist Centre are holding a daily meditation for 49 days to keep him in mind. Read on for a daily log of memories, poems and readings shared in this time. The meditation is open to all on weekdays from 2-3pm. 
Day 18: Friday 16 November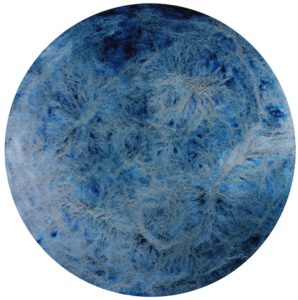 Held by Sophie.  Sometimes silence speaks louder than words. It can have as strong an impact as action. And sometimes, when so much is said and done, there's no other response but silence. And so, following some words on silence by the poet David Whyte, we just sat – not simply in the absence of noise – but in a deep abiding in "present unknowing".
"Real silence puts any present understanding to shame; orphans us from certainty; leads us beyond the well known and accepted reality and confronts us with the unknown and previously unacceptable conversation about to break in upon our lives…
…Reality met on its own terms demands absolute presence, and absolute giving away, an ability to live on equal terms with the fleeting and the eternal, the hardly touchable and the fully possible, a full bodily appearance and disappearance, a rested giving in and giving up; another identity braver more generous; more silent and more here than the one looking hungrily for an easy, unearned answer." ['Silence' from CONSOLATIONS: The Solace, Nourishment and Underlying Meaning of Everyday Words. David Whyte]
Day 17: Thursday 15 November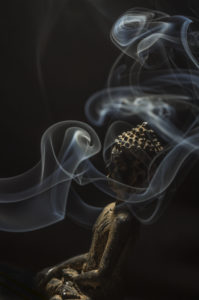 Held by Bodhilila. Today we revisited the theme of Going for Refuge, in particular looking at the ways in which our understanding of the Dharma needs the support of devotional practice. Sangharakshita stressed the need for ritual, devotion and engagement of the emotions as a counter-balance to the more intellectual and strictly rational side of mind as Dharma practitioners. Bodhilila shared some excerpts from early seminars on Going for Refuge as something that "becomes and grows by the process of going to it. [It grows] by your own process of committing yourself personally to the Three Jewels." At the same time, "The refuge exists for us only in so far as something within ourselves responds and corresponds to it", like watering and nourishing the seeds of the Buddha, Dharma and Sangha within us. We shared what this committed act of "Going for Refuge" means to us personally and did a three-fold puja, ending with offerings whilst chanting the Shakyamuni mantra.
"Originally, going for refuge represented a profound spiritual experience: you were moved to the very depths of your being, as we know was the case with the people who went for Refuge to the Buddha himself when he was alive. It was a matter of wholehearted commitment – wholehearted surrender – to the Three Jewels and to the spiritual life…We have to go back to the Three Jewels…This is where Buddhism really begins. This is the root, the foundation, the absolute bedrock of our spiritual life. This is how we really start practising the path – by going for refuge." 

[Excerpt from The Path of Regular Steps and the Path of Irregular Steps, in The Taste of Freedom]
Day 16: Wednesday 14 November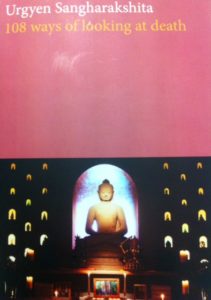 Held by Lilamani. During the period between Sangharakshita's death and his funeral, which lasted about 10 days, Vidyadevi magically conjured a new book: a collection of Bhante's writings, poems and reflections on the theme of death. The beautiful cover photo by Dhammarati, taken while the book was being produced, is an image of the shrine at Adhisthana in the week soon after Bhante's death. (That was not a typo, the book was actually imagined, edited, formatted and printed in 10 days). At the WLBC today we read two texts from this book, resuming our exploration of the Six Elements Practice. We read entries 89 (The stupa and the six elements) and 91 (An almost unimaginable experience) – thank you, Vidyadevi! – and then sat with Bhante's words echoing in our hearts for 30 minutes.
Day 15: Tuesday 13 November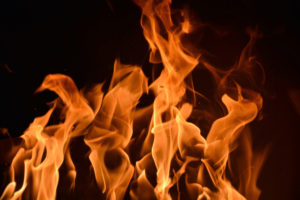 Held by Lilamani. Today the session consisted of two Order Members. We rejoiced in Bhante's funeral for a while, and then we did a Six Elements practice. We had the impression of being led by Bhante himself, using his poem The Six Elements Speak as our "guide".
Day 14: Monday 12 November
Held by Lilamani. Some of us at the WLBC went to Bhante's funeral in Adhisthana on Saturday, so we shared our impressions in this session. One of us who had volunteered at the funeral expressed her gratitude to the whole team of helpers and organisers at Adhisthana. We all agree there was a great deal of organisation involved, but there was also something richer than organisation: she experienced waves of metta permeating the tasks performed before, during and after the funeral. Metta as attention, consideration and collaboration, where team members went beyond their allocated tasks in order to help each other. Others in our session shared their sense of being welcomed at Adhisthana, and the magic of feeling at home in an event with circa 1200 participants. It was lovely that we could connect with the "WLBC people" and at the same time relate to the rest of the Triratna movement at its best. For the remaining 30 minutes we did a Metta Bhavana, bringing to our hearts Bhante, our friends and relatives who have died recently (including Vajradipa, whose funeral was happening at that same time), everyone who had been touched by Sangharakshita's translation of the Dharma, and the whole world. (We were also encouraged to include in our metta the builders next door who were noisily drilling walls during half of our sit).
Day 12 & Day 13: Saturday 10 and Sunday 11 November
"Hello from Pune"
"Thank you from Taiwan"
"Joining you from China"
"Dawn is breaking in Seattle. Very magical to be a part of this with you all." 
On Saturday, members of the team traveled up to Adhisthana for Sangharakshita's funeral and burial ceremonies. The Adhisthana team estimate that around 1, 200 – 1,400 people attended from all over the world. The majority arrived on Saturday, but they joined a steady stream of visitors who had traveled up earlier in the week to volunteer and to sit with Sangharakshita's body in vigil.
The messages above are just some of the words of gratitude sent to the Clear Vision team who live-streamed the event on the day. There were also greetings sent from Stockholm, Singapore and Mongolia to name a few. It shows the reach of Triratna, that this is a truly international Sangha. If you read the account of the funeral on the Buddhist Centre Online, it must've taken such a huge team effort to put the event on and overcome the logistical mishaps in the process! Above all, it shows that just like the live images beamed beyond borders, the Dharma too resounds beyond borders in the hearts of so many. Regardless of whether you met him or not, there is a very tangible gratitude in the air to Sangharakshita for being a fundamental part in that gift. I'm sure we'll be hearing more of the team's impressions of the event in coming days.
Day 11: Friday 9 November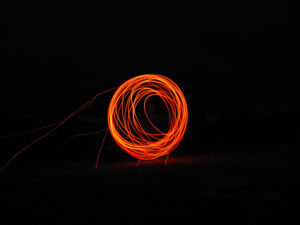 Held by Sophie. A meandering conversation today around metta, fearlessness and friendship. It is said that during this time in the bardo the consciousness of the deceased meets the wrathful forms. So, when faced with difficulty – inner and outer – we ask ourselves, what do we need to call on, metta or fearlessness? What is the appropriate response? Drawing on Living with Kindness, Sangharakshita's commentary on the Karaniya Metta Sutta, we hear Sangharakshita's conviction that metta is not an external concept but a living practice:
"I believe that humanity is basically one. I believe it is possible for any human being to communicate with any other human being, to feel for any other human being, to be friends with any other human being. This is what I truly and deeply believe. This belief is part of my own experience. It is part of my own life. It is part of me. I cannot live without this belief, and I would rather die than give it up. For me, to live means to practise this belief."
And so, we moved on to a short metta exercise. We first called to mind a good friend for ten minutes, then 'introduced' our friend to the group, delighting in their qualities. Returning back to meditation we opened up this heartfelt connection to all living beings. It is here then, faced with the invitation of this radical possibility, we feel that perhaps metta and fearlessness go hand in hand.
Day 10: Thursday 8 November
Held by Abhayadevi. Today we reflected on Going for Refuge, which might be described as the act of committing one's life to Buddhism and its three central tenets, The Buddha, the Dharma (his teachings), and the Sangha (the Buddhist community).  Abhayadevi read various excerpts from Sangharakshita's The History of My Going for Refuge, and after each one we had an opportunity just to sit and reflect on it, contemplate as we wished. We followed a thread through the life of Sangharakshita, from when he came across the Diamond Sutra at the age of 16 and realised he was a Buddhist; through leaving the army and going forth into a life of homelessness in India; through his observations and practice of the diverse Buddhist traditions that he encountered, and his realisation of the need to found a new community and Order here in the West – one in which distinctions between the monks and laity, men and women, no longer exist, and what matters is that each is an expression of Avalokiteshvara acting in the world.
Day 9: Wednesday 7 November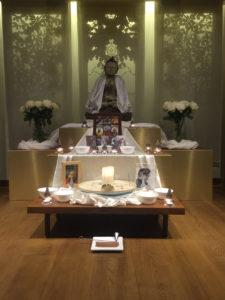 Held by Lilamani. Today we had a surprise: a heart-warming report from a WLBC mitra, Sally Garner. The previous day she was driving around Herefordshire with her husband Steven. Every one of their plans (where to go, where to eat etc) ended up falling through. Then they happen to see a sign to Coddington, and considered popping in at Adhisthana. Sally was sure everyone would be too busy to give them any attention, but Steven was encouraging: "Sally, be brave!". As soon as they parked the car, they felt very welcome by the (busy!) team. And there happened to be exactly two slots still available to sit with Bhante at that time. From then on, every slot was taken.
To complete the list of auspicious coincidences, as Sally got into the Amitabha shrine room she spotted her friend Sudrishti sitting there too. Sally was moved by the objects carefully placed by Bhante's body, and especially by the Refuge Tree painting. (Recently, at Tiratanaloka, Sally had built a strong connection with our Refuge Tree, which transformed from "something that looked like an advent calendar" to a rich and alive meditative experience). Both Sally and Steven were touched by the atmosphere of love and respect, and also by the friendliness of people in Adhisthana. And we, at the WLBC, really enjoyed hearing a first hand account of that experience. The image of our Refuge Tree was kept alive in our hearts while we chanted the Shakyamuni mantra, inspired also by the picture of Bhante and his teachers placed on the shrine.
Day 8: Tuesday 6 November

Held by Lilamani. Often we explore Bhante's writings, so today we talked about his readings instead. We shared excerpts from his early memories, where he relates books and magazines he read when he was a little boy. Bhante's sense of humour was appreciated, and we smiled – or even laughed – some times. Once again we were joined by WLBC friends who had never connected to Bhante directly, and were curious to know more about him. The readings were followed by a 30 minutes metta bhavana, bringing Bhante to our hearts.
Day 7: Monday 5 November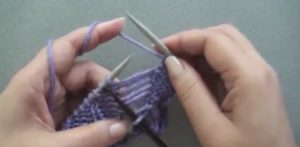 Held by Lilamani. Today we shared "secret" and not very well known stories of Sangharakshita: informal snippets we experienced first hand or heard from close friends, stories not officially documented in talks and writings. For example, Lilamani talked about knitting socks for Bhante (the last pair was lilac since there were not many options of wool in Ledbury), and Hanka talked about cooking for Bhante (he could only have very soft boiled potatoes, and rice had always to be brown). We were joined by people who had little connection with Bhante, or who had been to the WLBC only for a few times. They were curious, grateful and willing to connect with Sangharakshita's teachings. And while we talked and shared stories, we noticed almost every story related to friendship. A special mention went to his very good friends in Adhisthana, the team that took care of Bhante in his final years (and arranged for his socks to be knitted, and his food to be to his liking).  We ended with a "secret" not very well known version of the Green Tara mantra and sat for 10 minutes.
Day 5 & Day 6: Saturday 3 and Sunday 4 November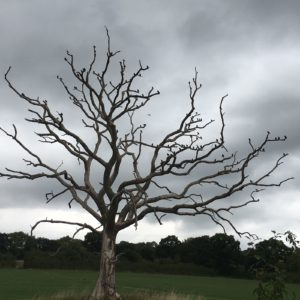 As the team disperses for the weekend we enter day five of the bardo which is associated with the green glow of Amoghasiddhi, the Buddha of Unobstructed Success. On the sixth day, all five buddhas manifest together in a great mandala of buddhas, bodhisattvas and wrathful deities. It is said in the Tibetan tradition that this can be a time of great fear accompanied by the temptation to turn away from this experience. For those left behind, death is also a time of great change and can bring about fear or anxiety about 'what next?' So here we can take a pause from the week's activity and take heart in that life lived fully in tireless service of the Dharma. As Sangharakshita's body was returned to Adhistana, his home in the final years of his life, we are told by his closest friends that the last year was one of Sangharakshita's happiest as he was able to live at the heart of the Order and witness his life's work reflected in the activity around him.
Day 4: Friday 2 November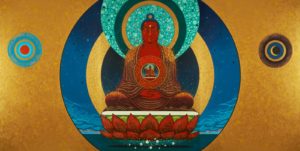 Held by Hanka. Day four of the bardo in the Tibetan tradition is associated with Amitabha where the deceased may encounter the intense red light of discriminating wisdom, shining from Amitabha. It is also the time when they may be drawn towards the faint yellow glow of the 'realm of hungry ghosts'. Today we remembered Sangharakshita 'the meditator' and were reminded that meditation too is a bardo, an 'intermediate' state. After evoking Amitabha through mantra, we did a three-stage metta bhavana practice, opening our hearts to ourselves, to Bhante and finally, to our friends and family in this warm, red, loving presence. (Image by Aloka, © Padmaloka)
"The intermediate state is intermediate between physical death and physical rebirth. But meditation is also an intermediate state, because when we meditate – in the true sense – we die. In the same way, physical death is a meditative state, a state of enforced meditation, enforced samadhi. In both intermediate states – the one between death and rebirth and the one that occurs in meditation – we can see Buddhas and Bodhisattvas, even mandalas of Buddhas and Bodhisattvas. These are not outside us; they are the manifestation of our own True Mind, the manifestation of the Dharmakaya, and we can, as it were, identify with them and thus be spiritually reborn in a Transcendental mode of existence. If we do not succeed in identifying with them in this way, then we are simply reborn in the ordinary sense – we fall back into the old conditioned self." 
Day 3: Thursday 1 November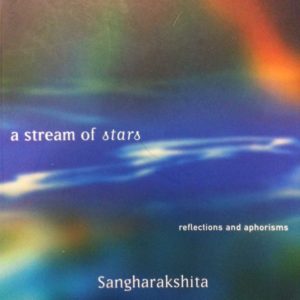 Held by Sophie. We held a reflection practice by taking turns to pick at random and read aloud some of Bhante's reflections and aphorisms from the collection, A Stream of Stars, and sitting with the words for some time.
"One can love people only as far as one understands them, and be ready to love them more when one understands them better."
–
"We should not underestimate the role of the will in the spiritual life. It is not enough to have feeling for the Buddha. We have to will to be like the Buddha. One might even say there is no spiritual life without will. Indeed, spiritual life could be defined as the constant willing of the good in all circumstances." 
–
"The worldly-minded think in terms of happiness, the spiritually-minded in terms of liberation."
Day 2: Wednesday 31 October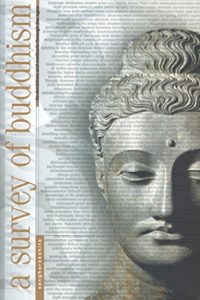 Held by Lilamani. We talked about why we wanted to commit to these Bhante in the Bardo sessions for 49 days. We expressed gratitude for his vision that brought about many friendships and connections. A couple of people rejoiced in his writings (especially the Survey) and poem, The Bodhisattava's Reply, in relation to his work in India. We chanted the Green Tara mantra followed by a short sit.
I shall say nothing, but only
Fold in Compassion's arms
Their frailty till it becomes
Strong with my strength, their limbs
Bright with my beauty, their souls
With my wisdom luminous, or
Till I have become like them
A seed between wet stones
Of custom and circumstance.
Day 1: Tuesday 30 October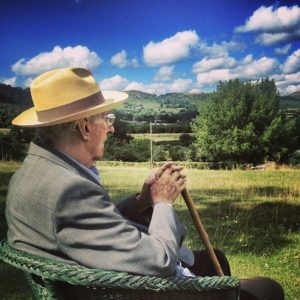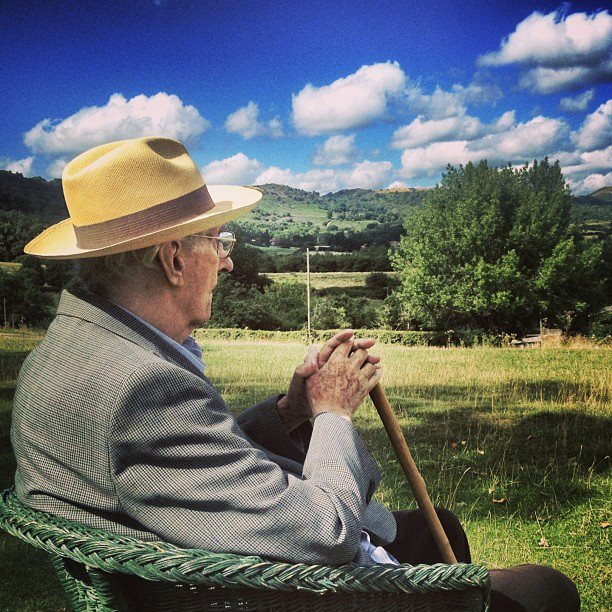 Held by Lilamani. The team chanted the Shakyamuni, Amitabha and Padmasambhava mantras followed by a short meditation.