What's the 'big deal' about mindfulness?
Ahead of the Mindfulness for Stress course starting next week and the mindfulness refresher session this Saturday, we interview Sophie Crocker, WLBC's Mindfulness Coordinator, who shares with us her personal take on secular mindfulness and the surprising ways it can influence your life as a Dharma practitioner.
Can you tell us a bit about yourself and your role at the West London Buddhist Centre?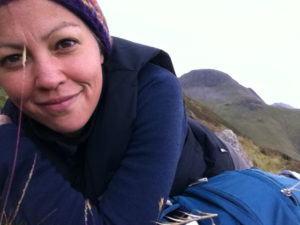 Hello, I'm Sophie. I look after the mindfulness programme here. I started working at the WLBC last summer covering gaps on reception. That led to a couple of regular slots and then this opportunity came up in the Spring. I basically work alongside Breathworks, who are based in Manchester, to put on their popular Mindfulness for Health and Mindfulness for Stress courses. We also run regular introductory 'taster' sessions for those new to mindfulness and 'refreshers' for people who've already had some experience with it and want to practice collectively. So there's lots going on. It keeps me busy but I like it.
How did you get into mindfulness? 
I arrived here through the meditation and Buddhism side of things. A friend took me on a meditation and yoga retreat at Dhanakosa in Scotland about eight years ago. We'd both just finished working in West Papua in Indonesia and I was burned out and still recovering from a serious bout of malaria. When I wasn't feeling sorry for myself I often felt angry, impatient, cynical, resentful or sometimes despondent. Quite shut down really. I did the metta bhavana practice for the first time and knew there and then that it was what I needed to develop healthier and kinder habits. I remember having a very physical response like heartache, or, in a more imaginal sense, as if the first layers of hardened defenses around my heart were starting to crumble away. I didn't find it easy (still don't), it really hurt actually (still can), but I had a deep sense that this could change my life. I get emotional just thinking about it! After that I started going to the London Buddhist Centre in Bethnal Green, as I lived near there at the time, and did a couple of meditation courses and mindfulness courses and went on retreat twice a year. I became a mitra about four and a half years ago and have since asked for ordination.
What's the 'big deal' about mindfulness?
I know what you mean! Mindfulness has entered the mainstream and it is great that its benefits are being recognised and practised more widely; but it does feel like you can tag 'mindful' on to any leisure activity and hope that it will sort your life out, doesn't it? Sadly, it's not like we can just go next door and buy into yet another product promising instant health and happiness that's Gluten Free. Dairy Free. Sugar Free. Pain Free. Anxiety Free. Stress Free. Difficulty Free. And then go and enjoy our free coffee too! Being 'mindful' isn't about being free from any of these things as in being rid of them.
What I've experienced from supporting Breathworks courses in particular is that mindfulness is an incredibly down-to-earth compassionate practice that recognises that this journey starts with you, right here, right now, not with a lofty ideal. I think that's one benefit of separating it from Buddhist doctrine: it takes the pressure off ideas around 'perfection'. These simple practices help us be more in touch with our direct felt experience – our thoughts, our emotions, our surroundings – in a kind and non-judgemental way. It's not a quick fix and it can feel like chipping away at stone most of the time. It's also not necessarily suitable for everybody all the time, so that's why we take the time to interview people before they join a course to make sure it's appropriate for them at that point in their lives.
So the freedom on offer here is simply the freedom of choice that comes with having more openess and clarity around our experience to respond/act/think/engage constructively, rather than habitually or reactively. It's a big ask and takes commitment, but the transformation I've witnessed in people from Week 1 to Week 8 is phenomenal. It's really moving – potentially life changing. That's the big deal.
How have you personally benefitted from mindfulness?
You might get a more honest answer by asking one of my colleagues whether they think all this effort is worth it or not! I feel that if it has benefitted them in someway, it must be benefitting me. I'm joking of course, but the people around us really are the best mirrors of our practice. I think mindfulness continues to help me make peace with my body, and the more at ease in my own body I feel, the more connected I can be with others and to the natural world. It took me ages to realise that my meditation practice wasn't really embodied but more thinking-based.  A big clue could've been that I hated body scans, which are a touchstone of mindfulness practice! They felt like painfuly slow versions of head, shoulders, knees and toes – sooo boring. That resistance and impatience probably had a lot to do with how I have historically related to my body in a more mechanical way, as something that serves my mind. Or, it was a painful reminder of my body's limitations, since I had been so ill and had suffered a fair few injuries in my time.
Oh, it's also made me a better swimmer – no really! I swim a lot. I am usually training for some long distance event and I have also recently started teaching swimming. Playing around with mindfulness in the water helps with the monotony of training because it can broaden my experience to my whole body's relationship with the water whilst also giving my mind a gentler focus on the sensations of the breath and bubbles, for example, rather than the narrow focus of counting lengths, watching the clock or planning. I pay more attention to what Breathworks call 'hard and soft edges' when I swim now, that is, I am more aware when I am pushing myself (meeting the hard edge) and when to ease off. It hasn't made me faster but I feel like it's less effort and so much more enjoyable. This is the approach I'll take into my teaching for sure.
How do you reconcile your personal Buddhist practice with the more secular mindfulness in your work life?
I get paid for one and not for the other! Yeah, sometimes they are regarded as being at odds with each other, but both are a big deal in my life and I wouldn't place more value on one over the other these days. Others would definitely disagree with me here, so this is my view and not the WLBC's, but I would argue that done well, they are not different at heart but in presentation, and people will gravitate to whichever resonates. I've been reflecting in mitra study recently about how all practices, teachings and figures to some extent can be seen as doorways towards the 'end of suffering'. If mindfulness, with its roots in Buddhism, is another of these doorways then someone like Vidyamala (Breathworks' founder and member of the Triratna Order) and her teaching team stand by with a helping hand outstretched showing people living with chronic pain, illness, stress, depression or anxiety that living well with it is possible. And to me, every time someone has the courage to step through our doorway – whether it be for an eight week mindfulness course or an hour lunchtime drop-in – to try something new or to work with some existing difficulty, or to just chip away at stone, to me that's very encouraging and deepens my confidence in these practices and what this Centre is for.
What's coming up?
After a busy year we still have a few events left on the 2018 calendar. On Saturday 20 October we've got a Refresher Session from 2-5pm. These monthly mindfulness workshops are open to anyone who has already done an eight week Breathworks course here or a similar course elsewhere (eg. MBSR, MBCT). There are still places left on the Mindfulness for Stress course starting on Monday 22 October. Or if you just want a taster, come along on Saturday 1 December 1-2pm. We're just putting the finishing touches on the programme for 2019 so watch this space.