Bodhilila writes…
Bodhilila (WLBC's Chair) reflects on the value of going on retreat, based on her recent experience, and hints at what this year's WLBC 'Going Deeper' retreat, coming up on 25-29 June, might offer…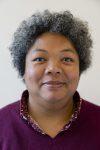 Dear friends
This is my first attempt at a blog, so I'm open to feedback!
I've been away on retreat a lot this last month – co-leading a long weekend at Vajrasana retreat centre, co-leading a week-long retreat at Taraloka (the women's retreat centre in Shropshire) and then going on a solitary retreat up a mountain in Wales. Each retreat was very different but what they all offered was an opportunity to step out of my everyday life and connect in a deeper way to my experience, to stop being so busy and just to be. They also allowed me to connect with nature in three very different environments, each with its own special beauty, and I found my psyche responding to the outer spaces with a growing inner spaciousness. Within that spaciousness I experienced clarity, insight, equanimity and joy, and have come back feeling both refreshed and inspired.
The first retreat was the annual West London Buddhist Centre Order/mitra retreat with Yashobodhi and Ratnaprabha co-leading. They are both terrific Dharma teachers and I learned a lot from sessions they led. Kamalashila was cooking on the retreat and he did us proud: the food was delicious, benefitting greatly from his creative tweaks to the menu. According to the Zen tradition the cook should be the most spiritually advanced person in the community, so it felt appropriate that Kamalashila was our cook, given that he was one of the founders of the West London Buddhist Centre.
I was ill during the retreat and ended up missing part of the programme (including a couple of slots I was down to lead – many thanks to Yashobodhi for taking these on at short notice as well as her own sessions). Interestingly, I found that when lying ill in bed I was in more positive states than I would have been at home, just accepting it as an unpleasant experience which would not last, able to maintain a more Dharmic perspective. Sometimes difficult stuff happens on retreat, I've certainly had some challenging personal and interpersonal experiences in that context. Nowadays I see these as opportunities for practice. For me, being able to hold both pleasant and unpleasant experiences, turning toward the painful while opening to joy, always helps me to respond to whatever is happening with more equanimity.
There were two mitra ceremonies during the retreat, which I found moving to witness and which took me back to when I became a mitra so many years ago. As someone who habitually avoided commitment and who started out wary and distrustful of the sangha, it was a highly significant step for me, a real turning point in my spiritual path. I used to believe that as long as I was practising it wouldn't make any difference whether or not I was a mitra, and it took me years before I asked.  I was surprised by how powerful an experience it was to have my commitment to practising the Dharma witnessed by other members of the sangha, just as I'm often surprised how moved I am to witness others take this step. (If you come to our Buddha Day  festival this Sunday there will be a mitra ceremony during the final puja, You can also find out more about what is a mitra by asking at the Centre).
The theme of the retreat was conditionality and on the first day Yashobodhi introduced the topic and led a couple of reflections. We each explored the different conditions underlying an unskilful mental state we were working with, and then looked at a positive change we had made in our lives and how in turn that contributed to other positive changes in our lives. Simple yet very effective, and I came away with the insight that all my negative mental states are rooted in craving, a craving for things to be different from the way they are (which in turn arises out of my conditioning and views, my lack of awareness of the true nature of reality).
And yes, I know that's one of the fundamental teachings of the Buddha which I have known about for years, thought I already understood. That's one of the things about practising the Dharma: we get deeper and deeper understandings of the same teachings, the same truths. In the same way that we can have an intellectual awareness about an aspect of ourselves, but it doesn't make any difference until this is combined with an emotional insight, in my experience there is a deeper level of spiritual insight where I get a brief experience of Reality in a way that really changes me afterwards. In the years I've been practising, most of these spiritual insights have occurred on retreats. Something about the conditions created on retreat, especially the opportunity for intensive practice on longer retreats, seem to support them to arise. Often we don't notice the benefits of our practice at the time, yet we are creating conditions for the future, sowing seeds which may grow over time, bearing fruit when we least expect it. For me, those moments where my practice bears fruit are often during intensive periods of meditation, usually on retreat.
The Taraloka retreat had a meditation focus, on the system of practice which Sangharakshita has placed at the heart of the Triratna approach. There were six women from the WLBC sangha on the retreat, which I really loved, especially seeing friendships forming and deepening between us. I was on a teaching team with Singhashri (a good friend who was on the same three month ordination retreat as me) and Saddhanandi (who was chair at Taraloka for twenty years and is currently the chair of Adhisthana). Saddhanandi has led a number of inspiring retreats I have attended over the years, including two where I had profound and life-changing insight experiences. What I hadn't remembered, until she brought it up, was that she was the leader on my very first retreat at Taraloka, back when I had just begun practising meditation. It was such a privilege to be part of the team, part of the retreat, helping to create positive conditions for practice and benefiting directly from those same conditions. Everyone has their own experiences, their own journey on retreat, and also there is a collective experience that goes beyond the individual. It was only a week long, but so many of us came away with more confidence in our meditation practice or having experienced a shift in perspective, and so feeling more able to deal with particular challenges in our lives.
If you've only been on weekend retreats up until now then I really encourage you to go on a week, ten day or two week retreat sometime and notice how much deeper you can go than on a weekend. And, in the meantime, I'd like to plug the five day Going Deeper retreat  that the West London Buddhist Centre is running at Vajrasana from Monday 25 – Friday 29 June. The theme is 'Touching the Earth'. Yashobodhi will be the lead teacher and I'm also on the teaching team. I was really impressed by the effect of being on retreat at Vajrasana. So much thought has been put into the design, the buildings and the gardens, all the indoor and outdoor spaces really help create fantastic conditions for practice. Much as I love Othona, it makes a big difference being in such a beautiful, purpose built retreat centre.
If you are interested in coming but cant afford the retreat fee do get in touch – as well as the sllding scale (and please don't be too literal with the full waged/part waged/unwaged categories, just pay at the rate you can afford) we also offer a limited number of bursaries to further reduce the cost. The Centre is not able to offer week long retreats at this point, but this is an opportunity for three full days of practice rather than the one full day you get on a weekend retreat, so it really is an opportunity to go deeper in your practice. You can book a place on the retreat at reception or book online.
It would be lovely to be on retreat with you but if this is not possible I hope to see you at one of our classes or events at the centre. Do come to Buddha Day! And come to our concert on 9 June which will be awesome!
With metta
Bodhilila