Commuting to the Cave of the Heart
In his first blog post since joining the Centre team three weeks ago, Ratnadeva reflects on his journey to the Centre and the nature of urban practice.
"It's a dangerous business, Frodo, going out of your door," he used to say. "You step into the road, and if you don't keep your feet, there is no telling where you might be swept off to."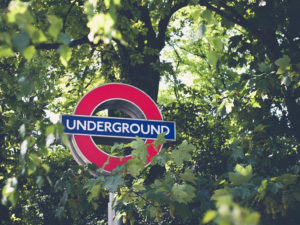 These words of Bilbo Baggins come to mind as I sit in the basement of the West London Buddhist Centre typing this blog entry. Little did I think that my nine years in the wilds of the Devon countryside working for Buddhafield would come to an end by my being 'swept off to' the bright lights of the Big City. I took a sabbatical year out from Buddhafield last year and I realised during this time that I was ready for a change. And what a change! As much as I miss Buddhafield and Devon, the delight I feel as I move into my third week at WLBC confirms my need, every once in a while, to 'go out of my door' and 'step into the road'.
The change in environment is all the more stark given that I spent the last three months of 2018 at Uttaraloka Retreat Centre up in the beautiful and wild Costa Blanca mountains. I was on retreat there with four other Order members, leading a life of shared meditation, study and puja. The songs of Milarepa, that mountain man of mountain men, provided our main focus of study. Now at WLBC I'm glad to be reconnecting with my quietly ecstatic time up the mountains by returning to the life and songs of Milarepa during the Wednesday lunchtime drop-in class.
I realise that I can help make sense of my transition by joining Sudurajaya on Saturday mornings for the Buddhism in the City sessions. Her current focus on the secret life of trees bridges the realms of nature and our urban existence. This sings to my current predicament. I look forward, in due course as I settle into my new life, to exploring my developing take on urban Dharma with the WLBC sangha. I suspect that my need, and that of many others, will be to take up a more regular commute, much shorter but more demanding than my daily travel on the tube – a journey from my head down to my body and to the Cave of the Heart.
I want to thank everyone I've met so far at WLBC for their warmhearted welcome. I already feel at home. To finish as I started, with the words of that sage Bilbo Baggins:
"If ever you are passing my way, don't wait to knock! Tea is at four, but any of you are welcome at anytime."