Weekend Retreat: Stillness, Simplicity and Contentment
Fri Jun 30th 2017
Jul 2nd 2017
7:00 pm
3:30 pm
Booking required
Full waged £180
Concessions £120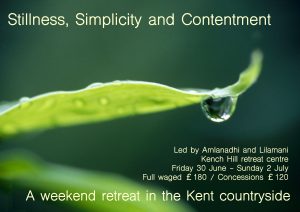 You don't have to justify your existence by being useful…
We spend so much life striving to achieve some goal or other.  And that's important.  But too much of it, especially if it becomes habitual, can exhaust us and close us off to the beauty and meaning that's inherent in life if we can be receptive to it.  That easeful, joyful receptivity is what this retreat is about.
The retreat offers a weekend of relaxation and contemplation to help us cultivate spaciousness and creativity of mind.  Along with meditation, and the poetry and colourfulness of devotional practice, there'll be picnics on the lawn, cloud watching – and plenty of time to do nothing at all.
The retreat will be held at Kench Hill retreat centre, an elegant, homely Georgian mansion set amongst beautiful gardens in Kent countryside.  All welcome, including beginners to meditation and Buddhism and those new to retreats.
…Here, Perfect Wisdom is going to come very softly, very gently, very unobtrusively.
(from Wisdom Beyond Words by Sangharakshita)
Booking
Full payment is required to make your booking. Please make sure you have read all the details on this page, and understand any specific commitments required before booking. Payments are non transferable but can be refunded up to 5 working days before the course starts (minus £20 cancellation fee). In the event of the course being cancelled, you will receive a full refund.
Please either click on the 'Book Online' button above, or write a cheque payable to West London Buddhist Centre and send with your booking request to:
The West London Buddhist Centre,
45a Porchester Rd,
London W2 5DP
Please include your name, email and phone number with your booking.