An Open Sky behind the Clouds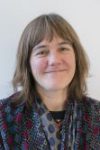 In the next months our weekly Saturday morning Buddhism-in-the-City class addresses a pressing need in these times of lockdown, isolation, anxiety and loss: Buddhist methods for relating to difficult emotions and for developing positive emotion. These classes are a mix of presentation, meditation, talking in smaller groups or pairs and some discussion and inquiry in the larger group.
At the start of the current series, Yashobodhi spoke about difficult emotion in relation to the Buddha's core teaching of the Four Noble Truths – there is suffering, there is a cause of suffering, there is an end to suffering and there is a noble path leading away from suffering. In the context of our present theme, we could reframe this as: there is emotional pain, it has come up for a reason, it will come to an end, and there are methods that can help you with that. Yashobodhi used the image of a sky with clouds to illustrate how difficult emotion can be seen as obscuring the natural, open and positive quality of our minds. Difficult emotions are sometimes referred to as kleshas, veils of disturbance or afflictions. It is wonderful to know there is an open sky behind the clouds, but we also have to turn towards the reality of the clouds.
Familiarising yourself more deeply with your own emotional landscape is a vital step in working with emotions. Yashobodhi encouraged everyone to notice varying shades and intensity of emotions and particularly to be aware of the natural positive emotions that are often present in the mind. These often go unnoticed. She also emphasised the importance of bringing love, patience and a sense of solidarity to the difficult emotions that come up for us in our current global crisis. Rather than berating yourself for what comes up, try being curious about what happens next and create a safe and friendly container for your experience.
Do join-in if you have experience with the meditations taught at the centre and some basic knowledge of Buddhism.