Bodhilila writes…
Bodhilila, WLBC's Chair and a former professional musician, shares some of the personal resonances for her of the viola and piano recital by Paul Silverthorne and David Owen Norris coming up on Saturday 8 December.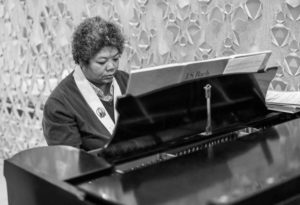 Dear Friends,
I am very excited about our next concert, coming up on Saturday 8 December at 7pm – the viola and piano recital by Paul Silverthorne and David Owen Norris. Actually I get excited whenever we have a concert because, as someone who worked for over 15 years as a professional musician, I love hearing music performed live by really good musicians. Yet the next concert has me more excited than usual, for personal reasons. I'm a viola player, I love the particular sound of the instrument, and if I'm honest the most intimate, longterm relationship I ever had is with my viola! When you play an instrument throughout your life, when it becomes so much a part how you communicate and express the deepest part of you it also becomes a part of who you are. When I stopped playing my viola professionally, initially it left me feeling incomplete and sometimes I still feel that words are so clumsy, that my first language is music and I rarely have the opportunity to speak it.
For many years I played both violin and viola but I much preferred the sound of the viola. In contrast to the high register of the violin, the viola has more of a tenor voice and more of an introspective character, playing counter melodies and contributing interesting harmonies when not taking the lead. During the baroque, classical and romantic periods there was not much solo repertoire composed for viola. As a result, there are very few solo viola players and in fact for some years the viola was viewed as the instrument people played if they couldn't make it on the violin. Within the music profession some people will still tell 'viola jokes' where the punch-line is always a variation on the theme that viola players can't play their instruments properly.
I used to get really wound up when people told these jokes, particularly as there were some fantastic viola players around that I greatly admired. One of these players was Paul Silverthorne, who will be coming to play at the centre on Saturday 8 December. I heard him play concertos and give solo recitals, and also went to many concerts given by the London Symphony Orchestra and London Sinfonietta, where he was principal viola. I had some of Paul's recordings, including one of the Brahms E flat sonata which he will be performing for us with David Owen Norris, a renowned pianist and composer that I have also admired for many years. Their programme also includes a more contemporary piece, Britten's Lachrymae and I'm very intrigued to hear the Grand Duo, which is an arrangement of Beethoven's Septet. Quite how the two of them will manage to play a piece originally written for seven musicians remains to be seen!
So I'm looking forward to the rare treat of viola recital given by two of my musical heroes. And I invite you to come along, even if you've never been to a concert before, even if you have a view that you don't like classical music. From a Dharmic perspective, I do find it fascinating how we can get so fixed in our views about what music we like or don't like. I used to be like that, but as I've become more open and receptive in my approach to life and to meditation I've also become more open and receptive to all kinds of music. Although my first love is classical music, I just enjoy great music. If I hear a great musical performance or an interesting piece, it doesn't matter whether it's classical, jazz, folk, rock or any other genre. I was blown away by our recent concert by renowned English folk musicians, the Askew Sisters and hope they will be back next year.
Although I was disappointed to miss the recent jazz concert by sangha member Jonathan Cohen's 'Time Loves Changes' jazz quartet, I'm sure they will be back and I know we have some terrific concerts coming up in the future. If you can't make the viola and piano recital I highly recommend you come to hear the Boscobel String Quartet on Saturday 26 January, back for their third concert. Somehow I've managed to woo many world class musicians to perform at the Centre and many of them come back for return visits. They all love playing at the West London Buddhist Centre, everyone comments on what a receptive and appreciative audience the sangha is. And after being used to playing in big concert halls all around the world, a concert in such an intimate venue is a special experience. It's very special to be part of the audience as well, to be up close and personal to the performers, so do try it some time. Meanwhile, you can book online or in person for Paul and David's concert. Hope to see you there!
With metta,
Bodhilila