Saltwater Dharma 2: Mindful Anything?
Our Mindfulness for Wellbeing programme Coordinator reflects on the pros and cons of 'mindful' everything after an eventful trip to Newquay to deliver taster sessions at the Boardmasters music and surfing festival.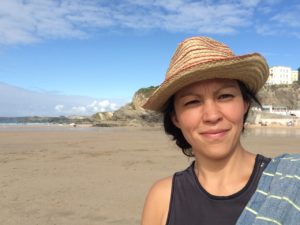 I travelled down to Newquay last Tuesday afternoon to deliver mindfulness taster sessions for a client at the Boardmasters surfing and music festival. I was one among 50,000 people expected to gather for the 5-day event. However, around midnight before the gates opened the news arrived that the music event had been cancelled due to severe weather warnings. Of particular danger were the coastal gales bound for the cliff top festival site at Watergate Bay. It made headlines due to the impact on ticket holders and local businesses. Although what I was expecting didn't happen, when I expected the worst, that didn't happen either. I'm not quite sure what happened but here are some snap reflections from those 72 hours which raised some bigger questions.
Doing mindfulness and being mindful
When asked to lead some morning mindfulness sessions at a festival, I envisaged a wellness/chill out tent where weary festival goers could drop in and be guided through some Body Scan, Mindfulness of Breathing, Mindful Movement, Kindness to Self meditations. Instead, I turned up at a stall in the food and merchandise section located behind the beach bar at the surfing competition. Not quite what I had imagined.
But I had a game plan, a good one, and at that point while I was willing to adjust it I was not quite willing to give it up. I ran mindful movement sessions, connecting with the senses sessions and we even managed the raisin exercise. We noticed the thumping music and where it was coming from, the smell of Cornish pasties and where they were wafting in from and noticed how raisins "look like your fingers when you've been in the sea too long". On the face of it, it certainly looked like we were doing mindfulness but to me, it did not feel like we were being that mindful. Honestly, I had to question what I was doing, so is this McMindfulness?
"If I eat the raisin, what do I win?"
Too many times I was asked that question. I shouldn't have been so surprised. In this frenzied and highly commercialised society of ours where we operate in a competitive 'attention economy', it's no wonder that businesses are expected to reward consumers for giving them seconds of their precious attention, after they've worked out how to catch it first that is. So, if our attention is no longer free then what does that mean for other meditation and mindfulness organisations who operate in this field? Are we at the coal face and mining unprocessed attention, are we traders of this raw material, or are we merely repackaging it? What is our role and are we colluding with a spirituality co-opted by neo-liberal values?
I doubted myself, this work and the practice: am I just after the freebies? I'm not talking about t-shirts here but the 'freebie' of just momentarily feeling better about myself in the personal market of frenzied thoughts, cravings, angst and disappointment. That's not bad in and of itself, but by and large a misrepresentation of mindfulness and not why I personally persevere. The work, and it is hard work, is trying to reclaim my attention back one moment at a time. Not so that I can spend it better on healthier, albeit still fast food spirituality, but to reclaim it in its fullest potential; to relate to and respond to both suffering and joy in the world wholeheartedly but without the agenda of pushing my 'brand'. But it's true, for all this effort, what do I win? Nothing. But, that's the point.
Can mindful 'egg' and spoon racing take you all the way?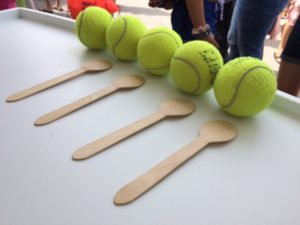 The next day I abandoned plans to guide meditations and looked for a way to respond to what was actually happening with the resources I had around. Five tennis balls in my rucksack and five wooden spoons from our neighbours' mac 'n' cheese truck yielded the answer: 'egg' and spoon racing. BUT, in my kinder version the 'egg' never breaks and the slowest person wins. The only rule was that you had to keep moving one foot in front of the other. At some point whilst refereeing these slow races I noticed that what I was saying had a strangely familiar ring to it:
– Focus on the ball. Ooh, that's ok, just come back to the ball.
– Don't worry about anybody else's ball or you'll wobble.
– If you drop the 'egg', just put it back on the spoon and try again.
– That's it, slow and steady. Breathe.
– Oooh, that dog really wanted your ball. Nevermind the distractions.
– Don't worry sweetheart, in this game nobody really wins and even better, nobody really loses.
– Here, you win a spoon! Say Hello Spoon-y! (Go watch Toy Story 4 to get the reference)
Although what we were doing didn't look like any mindfulness I'd been trained to do, for minutes at a time people were somewhat present, focused and we all had a laugh in the process. But would it lead us all the way to Enlightenment? The answer to that is simple: no. Egg and spoon racing is not the answer. I'm joking of course. The point is that 'mindfulness' divorced from ethical sensitivity, from meaningful intention, from compassionate engagement with oneself and the world is one-dimensional at best. Mindful everything can have its place but not everything that is 'mindful' is mindfulness.
"You can't stop the waves, but you can learn to surf." – Jon Kabat-Zin
Like the pressure fronts, as the news came in my internal weather threatened to go from high to low very quickly, especially after I had to ditch camping for what seemed like the last available bed in town, in a shared dorm, in a hostel advertising: NO CURFEW – PARTY! PARTY! PARTY!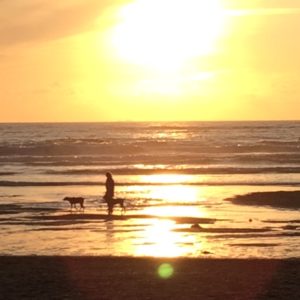 I came up against quite a limiting thought pattern: if this isn't in the plan, it's not going to be as good (or some shorter more colloquial version of that). I guess that way I don't allow myself that much room for everyday surprises. But the weather – internal and external – stayed fair, at least for 2 of the 5 days. Our lives, like the weather, are relentlessly changeable and I forget that I can't control it all. In some way responding rather than reacting to the world requires surrender and that's something I'm just not that used to doing. So yes, while I couldn't stop the waves of change, I certainly feel like I got a good work out in the surf. Just as well I love the water and, I was in Newquay after all.
The trip was eventful externally and internally and I have a renewed appreciation for mindfulness pegged to the body of wisdom, as Breathworks is. It is not fast food but with a bit of commitment, can be deeply nourishing food for the soul. So, why not see for yourself?