Confessions of a Buddhist barman
Ahead of the Sangha Soiree coming up on Saturday 11 May, Vilasamani talks about what these gatherings are and why he runs them – and why this one will be a little different…
Dear Sangha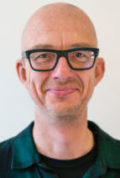 We are gathering again soon to throw another Sangha Soiree – so what are these nights, and why do I run them? The evenings themselves fall into three parts – an opening meditation, two hours for guests to eat, meet and be entertained by performers, then two hours of dancing our socks off in the studio. You can see photos here.
Performances come from the sangha and have included poetry and spoken word, jazz and classical piano, guitar and vocals, calligraphy, artwork and photography, magic and dance, so if you have something you would like to share please get in touch.
Guests are invited to bring food to share, and I brew and serve kombucha cocktails. As my old friend Dharmavadana said of seeing me in the role: 'Vilasamani, you were born to be a barman'; and as jobs for Buddhist bar staff are few and far between, you could say that I have created my own.
In a way, I do throw these evenings because they bring together all the things I enjoy – meditation, a friendly crowd, artistic talent and dancing til I drop. It is also a characteristic of Librans to bring people together and I remember reading once that 'the Libran man is at his prime at cocktail parties', so it written in my stars. But they are also a chance for those of the sangha who also enjoy such entertainments to have a fun evening and get to know other Dharma practitioners in a relaxed context.
The upcoming Soiree is a little bit different as it will follow on from the naming ceremony of Joseph Tyrell's infant daughter, so will have a celebratory feel to it too, but all the regular ingredients will be there, including house musician Jonathan Cohen at the piano. You are all warmly welcome. RSVP not required. Donations to WLBC invited.
Vilasamani